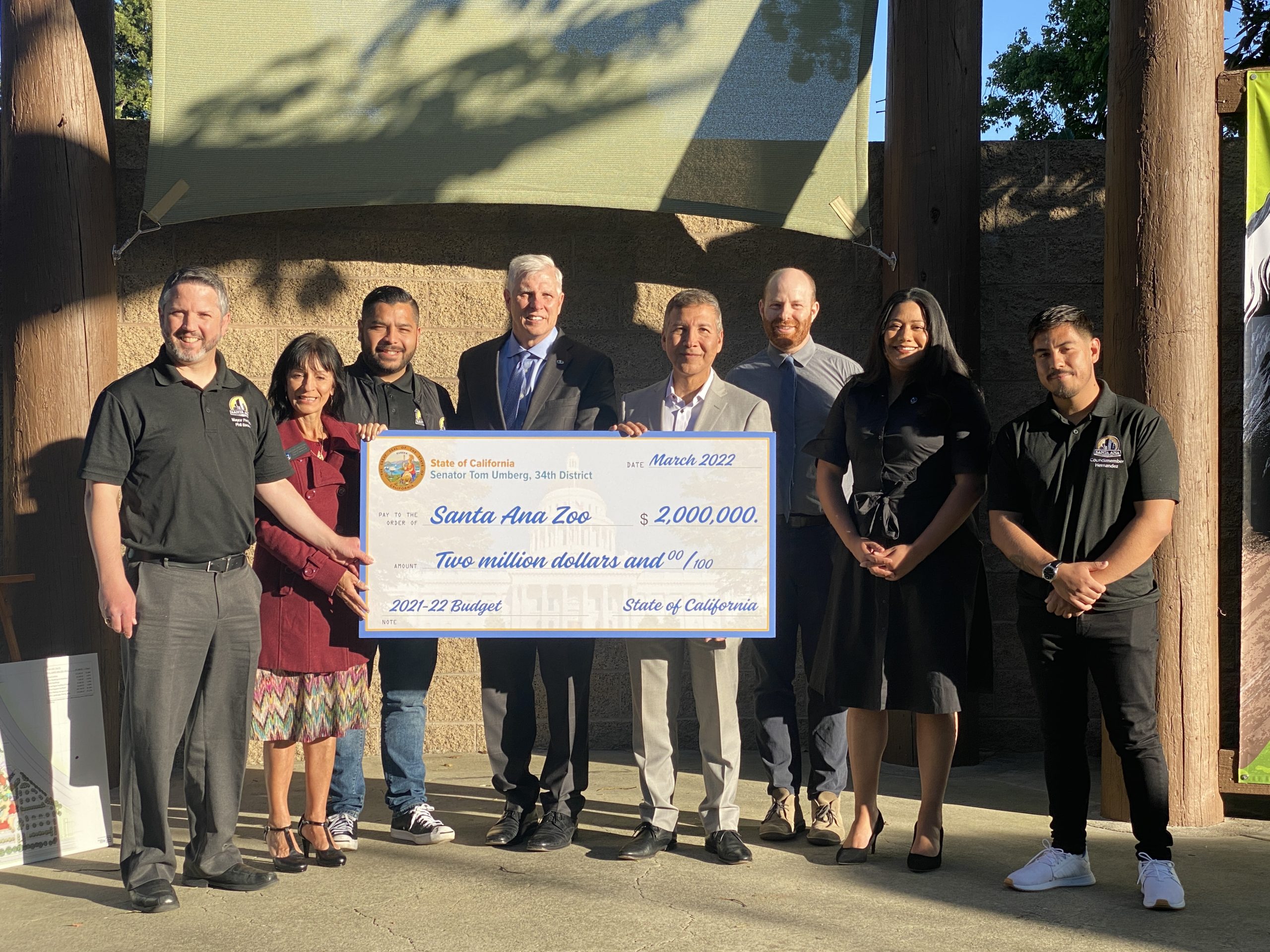 Earlier today, Senator Thomas J. Umberg (D – Orange County) presented a check for $2 million to the Santa Ana Zoo for design and construction of a new Education Hub building. The Zoo's 70th birthday was also celebrated at the event, with cake, cupcakes, and cookies.
"The Santa Ana Zoo's 70th birthday is the perfect opportunity for us to be here to help expand the Zoo's mission and outreach capabilities," said Senator Umberg. He continued to say that, "Direct exposure to the animals and science-based professionals here at the Zoo will impact children like no textbooks can. I'm incredibly proud to have a hand in influencing our next generation of eco-warriors here in Orange County."
Senator Umberg led the charge on this funding from the State of California that will help the zoo increase its work and outreach to underserved youth in Orange County and involve them in conservation and zoological efforts. The new environmentally sustainable facility will include a flex space, classrooms, and a hub for community volunteers and education coordinators. The classrooms will be flexible in design and layout to maximize their use potential throughout the day and year.
"We're grateful for Sen. Umberg's $2 million donation that will help us continue the transformation of the Santa Ana Zoo," Santa Ana Mayor Vicente Sarmiento said. "In 2021, Zoo education programs served over 40,000 people, and the Zoo has become an educational resource for not only local schools and teachers, but also community colleges and for university research."
"The new Education 'Hive' will provide a welcoming gateway to the Zoo for school groups, a flexible space for programs, and a home base for education staff and volunteers," said Lauren Bergh, Curator of Education for the Santa Ana Zoo. "We are thrilled to have a dedicated space to build connections between our community and the natural world through hands-on experiences."
The Education Hub, nicknamed "the Hive" because it will be buzzing with activity, was conceptualized as a part of the 20-year Master Plan for the Santa Ana Zoo approved by the City Council in 2018. Community surveys in 2020 and 2021 showed widespread support for the Zoo and the desire for additional educational opportunities and programming. The Education Hub is a pivotal piece of a program the Zoo is developing and implementing entitled Community Connections: The Zoo & You.