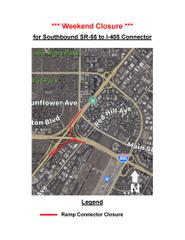 Please see the updated map showing closures for both the Southbound and Northbound SR-55 Freeway Ramp Connectors to Southbound I-405 for this upcoming weekend.
The Southbound SR-55 Freeway Ramp Connector to I-405 will be closed for the entire weekend so that Caltrans crews can complete the Continuous Reinforced Concrete Pavement (CRCP) for this connector that ties-into Southbound I-405 and the Off-Ramp to the Orange County/Santa Ana Airport. The Northbound SR-55 Freeway Ramp Connector to I-405 Southbound will also be closed to accommodate this work. The closure will be from Friday, August 7, 2020 starting at 10 p.m. until Monday, August 10, 2020 at 5 a.m.
This closure will cause significant delays to access the Orange County/Santa Ana Airport and the detour to access the airport from Southbound SR-55 is:
1. Take Southbound SR-55 to I-405 Northbound,
2. Exit Bristol Street,
3. Turn left on Bristol Street,
4. Turn right onto Southbound I-405 On-ramp, and
5. Continue south on I-405 and follow the signs to your destination.
The detour for Northbound SR-55 to Southbound I-405 is:
1. Take Northbound SR-55 to MacArthur Boulevard Exit,
2. Turn right onto MacArthur Boulevard and continue over the I-405 Freeway, and
3. Turn left onto the I-405 Southbound On-Ramp or continue straight to the airport.
Please plan for delays and we appreciate your patience while this important work is completed.
Electronic Freeway Changeable Message signs will notify drivers and work updates are also available via Twitter, Facebook and Instagram using Caltrans handle: @CaltransOC
This schedule is subject to change due to traffic incidents, weather, availability of equipment and/or materials, and/or construction-related issues. For more information, you may contact the District 12 Public Information Office at (657) 328-6000.
For anyone with sensory disabilities requiring alternate formats (i.e. Braille, large print, sign language interpreter, etc.) and those needing information in a language other than English, please contact Angela Madison at (657) 328-6594 or TTY 711.