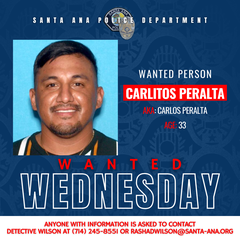 Wanted Suspect: Carlitos Peralta (33 years old)
Wanted Suspect Carlitos Peralta was the Warehouse Manager of "Covid Clinic" located at 3401 W MacArthur Boulevard inSanta Ana.  "Covid Clinic" has seven warehouses throughout the nation where they store and ship Covid-19 tests to customers such as clinics, pop-up testing sites, schools and hotels. Peralta had access to the shipping and delivery system from the various warehouses.
Peralta had nearly 100 separate shipments of large amounts of Covid-19 tests sent to his residence from multiple "Covid Clinic" warehouses.  The total amount of loss is estimated to be $1,000,575.
Anyone with information on the whereabouts of the wanted suspect is asked to contact Detective Wilson at (714) 245-8551.
Address/location
Santa Ana Police Department
60 Civic Center Plaza
Santa Ana, CA 92701
Contact
Emergency: 9-1-1
Non-emergencies: (714)834-4211