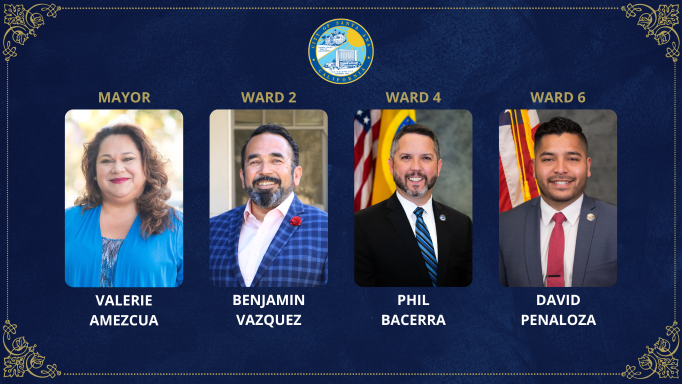 An installation ceremony took place on December 13, 2022.
SANTA ANA, Calif. – Santa Ana's first female mayor and three City Councilmembers took the oath of office on Tuesday, Dec. 13, at Santa Ana City Hall.
Mayor Valerie Amezcua is the first woman elected to the citywide office in Santa Ana's 153-year history. Newly elected Councilmember Benjamin Vazquez took the oath of office to represent Ward 2, Councilmember Phil Bacerra was sworn in to serve another term for Ward 4, and Councilmember David Penaloza will again represent Ward 6.
The new Santa Ana City Council's first official action was to elect Ward 3 Councilmember Jessie Lopez as mayor pro tem. The other members of the City Council are Ward 1 Councilmember Thai Viet Phan and Ward 5 Councilmember Johnathan Ryan Hernandez.
Mayor Amezcua is a former member and president of the Santa Ana Unified School District Board of Education. She is a graduate of the University of La Verne and worked for the Orange County Probation Department for 30 years before retiring as a supervising probation officer in 2017.
"I am humbled and honored that the voters of Santa Ana elected me as their mayor. This wonderful city is my home, and I am ready to work with everyone, from grassroots, businesses, and other elected officials who want to see our city flourish," Mayor Amezcua said. "We may have complex problems, but I am confident working together we can reach solutions and usher in an amazing new chapter in Santa Ana. Let's get started!"
Councilmember Vazquez works as a teacher at Valley High School in Santa Ana and is chair of the Board of Directors of El Centro Cultural de Mexico in Santa Ana. Born and raised in Santa Ana, he received his undergraduate degree from Cal State Long Beach and his master's from UCLA.
"As a councilmember, my focus will be on making sure our limited city-wide resources benefit working-class families and improve quality of life for all Santa Ana residents," Councilmember Vazquez said. "Our City budgets, policies, and resources need to be centered on nurturing the families and communities of our city, instead of special interest groups. I believe that our City plan and budgets need to reflect a vision that prioritizes working class families."
Councilmember Bacerra was elected to the City Council in 2019 to represent Ward 4. A graduate of USC with a bachelor's degree in urban planning, Councilmember Bacerra has worked for various city government agencies, including the City of Los Angeles. He served on the City of Santa Ana's Planning Commission, General Plan Advisory Group and Historic Resources Commission.
"I look forward to serving the residents of Santa Ana for another four years and continuing the work to make our city safer, address homelessness, provide and enhance municipal services, and advocating for business-friendly policies so that our Golden City will continue to shine," Councilmember Bacerra said.
Councilmember Penaloza was elected to the City Council in 2018. Born and raised in Santa Ana, he graduated with a bachelor's degree in English from Cal State Los Angeles. He works as a senior regulatory engineer for Color Science, Inc., a local company specializing in compounding raw materials and resins to produce plastic.
"What an honor it is to be elected to serve the residents of Santa Ana another four years," Councilmember Penaloza said. "By connecting with thousands of residents this election cycle and hearing their positive feedback, I am confident we're on the right track. From expanding our parks and libraries, to strengthening our economy and public safety, we're just getting started. I am looking forward to continue building on the foundation we laid out during my first term."
The new mayor and councilmembers were elected in the Nov. 8, 2022, General Municipal Election. Under the City Charter, the mayor serves a two-year term and councilmembers' regular terms are four years.
Watch the City Council installation ceremony at https://youtu.be/Febvh3-MtpQ.
Watch the full City Council meeting, including farewells to the outgoing former mayor and councilmember, at https://youtu.be/Urh6Dzgvluk.