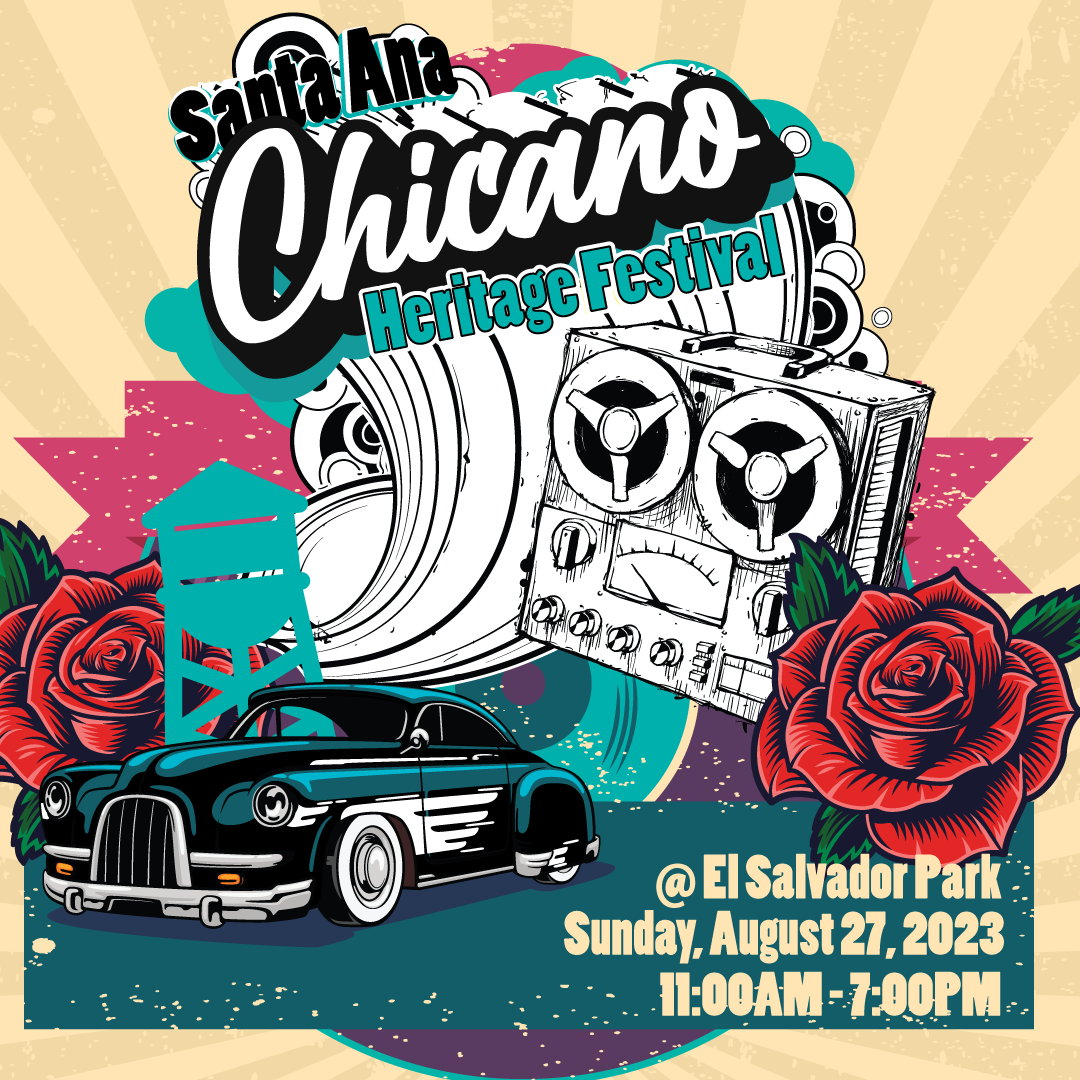 Come together as a community and celebrate Chicano Heritage Month on Sunday, August 27, with family-friendly activities, live entertainment, a car cruise and show, food, exhibitors, carnival rides, and more!
The City of Santa Ana's annual Chicano Heritage Festival will take place from 11 a.m. to 7 p.m. at El Salvador Park, 1825 W. Civic Center Drive, in Santa Ana.
The Santa Ana City Council presented a proclamation on August 1 declaring August as Chicano Heritage Month to recognize the significant contributions of Mexican Americans to the history of the United States. Chicanos/Chicanas represent a significant demographic in Santa Ana, and we honor their invaluable accomplishments and contributions in the city.
Guests can look forward to an exciting musical line-up with:
Malo
Tierra Legacy
The Altons
Thee Sinseers
Funk Freaks
MOFAK
Zackey Force Funk
Vicky Tafoya and the Big Beat
This year, the Festival is bringing a car cruise leading up to the car show at the event. The car cruise will begin at 10:30 a.m. with a starting point at Santa Ana College's Parking Lot 7, 1530 W. 17th St., in Santa Ana. For additional information regarding the car show and cruise, please contact specialevents@santa-ana.org.
The entire family can look forward to a fun Kids Zone with multiple inflatables and carnival rides. To accommodate this year's expanded Kids Zone, street closures will impact the neighborhood starting at 6 a.m. on event day, August 27. The event site map posted on the website outlines the street closures.
This free event is organized by the city's Parks, Recreation and Community Services Agency. Street parking will be limited due to street closures accommodating the event footprint. Parking will be available at Santa Ana College in the parking lot located on Washington Avenue and Bristol Street. Shuttle services will be available from the designated parking lot to the event at El Salvador Park from 10 a.m. to 8 p.m. The shuttles will have limited capacities and cannot accommodate large items like tents, chairs, or coolers.
Visit the Parks and Recreation website for more information on Santa Ana's Chicano Heritage Festival.