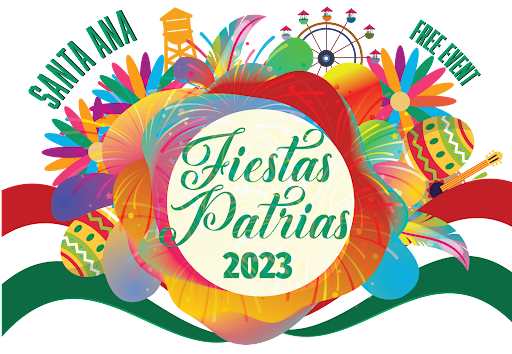 The parade will be livestreamed and will feature Santa Ana's sister city, Sahuayo, Michoacán.
SANTA ANA, Calif. – The City of Santa Ana will celebrate Mexican independence and commemorate Santa Ana's vibrant Hispanic and Latino cultures at the 43rd annual Fiestas Patrias festival and parade on Sept. 16 and 17.
This year's event includes many new additions! Chevrolet is the official automotive brand of Fiestas Patrias 2023 and will be showcasing new electric vehicles; a delegation from Santa Ana's Mexican sister city, Sahuayo, Michoacán, will be joining the parade; and for the first time, the parade will be livestreamed on the City's YouTube channel, Facebook page and TV channel (Channel 3 on Spectrum.)
The Fiestas Patrias festival will take place on Saturday, Sept. 16, from 12 to 11 p.m. and Sunday, Sept. 17, from 12 to 10 p.m. on Flower Street between Civic Center Drive and Santa Ana Boulevard, in Santa Ana. The parade begins at 3 p.m. Sunday, Sept. 17, at Main Street and Washington Avenue.
Performances
The 2023 Fiestas Patrias stage will be filled with exciting performances from community groups and a-list international talent.
On Saturday, Sept. 16, guests can look forward to seeing mariachi, ballet folklorico, and performances by:
B. Quintanilla III y los Kumbia All Starz
Marilyn Odessa
Los Merlins
Sangarci
Mantra
Hex Indigo
On Sunday, Sept. 17, we have a full line-up made up of all bands ranging from rock, regional, pop, and more:
Banda los Sebastianes
Graciela Beltran
Raquenel
Cadetes de Linares de Memo Cavada
LA Internacional Tropicolombia VIP
LA KLA-V de Tierra Caliente
Ricardo Paz
Mary Barraza
Descdendentes del Patron
El Cuñao y Su Tamborazo
Miguel Angel
Los Marinos Show
Melrose Band
The full program and timeline can be found on the Fiestas Patrias website.
El Grito ceremony
The Mexican "shout" for independence, el Grito de Independencia, will take place at 7 p.m. Saturday on the Fiestas Patrias stage. The delegation from Sahuayo will also be participating in this annual tradition.
Parade
After a 3-year hiatus, the Fiestas Patrias parade returns this year 3-5 p.m. Sunday with the theme "Hispanic Heritage: Past to Present." The theme marks the passage of time since the last parade in 2019 and recognizes the many states of Mexico who celebrate their country's independence. This year's parade brings an inclusive approach where additional community-based organizations without state affiliations can still participate. The 2023 Fiestas Patrias parade will include representation of over 23 states and will bring over 130 staging elements.
Santa Ana's title level partner, Telemundo 52, will bring Azalea Iñiguez and Christian Cazares to accompany dignitaries and community organizations in the parade.
Chevrolet
The City of Santa Ana welcomes Chevrolet as the official automotive brand of Fiestas Patrias 2023. Participants can look forward to an exciting program showcasing the Chevy lineup both on display and available for test drives at the festival.
"Santa Ana is one of three stops for the 2023 Mi Familia My Chevy program, where we've created an authentic and culturally relevant experience for the Hispanic consumers to connect and engage with our vehicles," said Jose Pagan-Ortiz, GM Assistant Multicultural Marketing Manager. "Chevrolet is excited to attend the Fiestas Patrias festival and showcase our lineup of SUVs, Trucks, and EVs while welcoming guests into La Casa and the driver's seat to experience our amazing vehicles."
Festival fun
Throughout the entire weekend, families can look forward to a complete carnival with exciting mechanical rides, food vendors and shopping. Tickets for carnival rides will be available for purchase on-site at ticket booths.
Visit the Fiestas Patrias website for parking details, the parade route and more information.
# # #
About Santa Ana
Santa Ana is downtown for the world-famous Orange County, California. It is the County Seat is home to a vibrant evening scene and arts community. Over 1,400 City employees work hard every day to deliver efficient public services in partnership with our community to ensure public safety, a prosperous economic environment, opportunities for our youth, and a high quality of life for residents. Learn more at www.santa-ana.org.