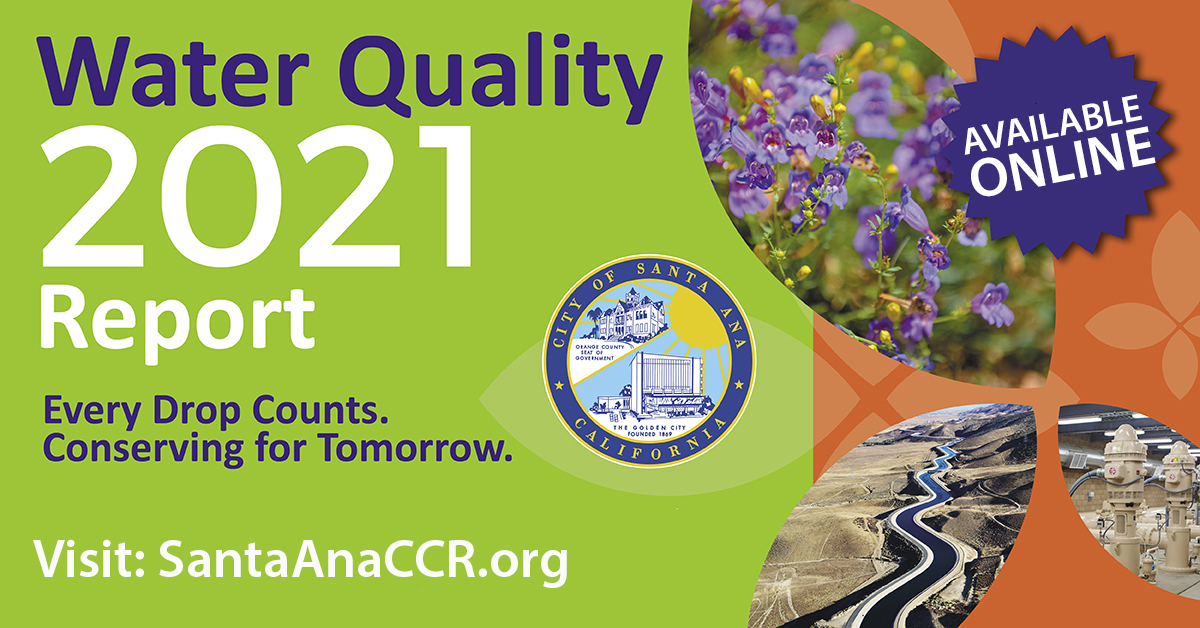 The Consumer Confidence Report (CCR) is an annual water quality report that informs you where your drinking water comes from and what's in it. To review the details of the report, visit www.SantaAnaCCR.org.
SANTA ANA, Calif. — The City of Santa Ana recently released its 2021 Water Quality Report, also known as the annual Consumer Confidence Report (CCR). The report details the results of Santa Ana's water quality testing and how the City safeguards its water resources to deliver drinking water that meets or exceeds all state and federal standards.
"We are meticulous at maintaining the highest quality standards throughout our water distribution system through constant monitoring, sampling and testing," says Cesar Barrera, Deputy Director of Public Works, Water Resources Manager. "None of this would be possible without our diverse, highly skilled staff and technicians who invest additional time and effort to keep themselves current with the latest training, licensing and certification."
Each year, the CCR presents important information to help residents make health-based decisions about their drinking water. The cornerstone of the report are easy-to-read tables summarizing the different types of chemicals tested in the water Santa Ana delivers, the range and average of each chemical measured, and how it compares with allowable state and federal limits.
In addition to this important information, residents can learn about how Santa Ana is addressing the drought as well as ways residents and businesses can use water more efficiently to help conserve, including:
Detecting outdoor/indoor leaks
Easy water saving practices
Drought resilient landscaping with OC native plants
Water-saving appliances and devices for your home
The report also highlights how Santa Ana's Water Resources Division is investing in sustainable local water sources to reduce dependency on imported water and actively pursues grants to fund projects to maintain the lowest possible water rates for customers. Its focus on integrating state-of-the-art technology to better respond to production, treatment and delivery issues earned a number of awards last year, including the IDC Smart Cities "Smart Water Award" and CWEA's "Medium Collection System of the Year."
Residents are encouraged to enjoy the convenience of viewing the report online by visiting www.SantaAnaCCR.org, where they can also download and print their own copy of the entire report. Residents who prefer a print report can call 714-647-3320 or email info@SantaAnaCCR.org.
# # #
About the City of Santa Ana Public Works Agency
The City of Santa Ana Public Works Agency, with its four divisions and professional staff of more than 200 employees, is responsible for the city's infrastructure and quality of life. The agency builds and maintains all public streets, storm drains, sewers, and water facilities, as well as coordinates refuse collection and recycling, street sweeping, public right-of-way landscaping, and graffiti removal. Through the agency's Water Resources Division, it ensures the community enjoys high quality drinking water. It also ensures the community is able to travel around the city efficiently through the use of a state-of-the-art traffic management system, and collaboration with neighborhood associations and developers to resolve speeding, parking, and traffic problems.
# # #
About Santa Ana
Santa Ana is downtown for the world famous Orange County, California. It is the County Seat, the second-most populous city in Orange County, and is home to a vibrant evening scene and arts community. About three-quarters of the City's residents are Latino. Over 1,200 City employees work hard every day to deliver efficient public services in partnership with our community to ensure public safety, a prosperous economic environment, opportunities for our youth, and a high quality of life for residents. Learn more at www.santa-ana.org.