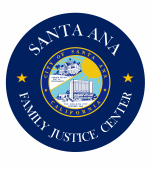 We are excited to announce that Jan. 28 marks the official third year anniversary of the Santa Ana Family Justice Center (SAFJC)! The SAFJC opened its doors on Jan. 28, 2020, and has remained steadfast and committed to serving our Santa Ana Community. Conveniently located inside the Santa Ana Police Department, the SAFJC is a one-stop center for survivors of Domestic Violence, Sexual Assault, Child Abuse, Human Trafficking, and Elder Abuse.
The SAFJC team is made up of various social service agencies/partners who work together to help survivors break the cycle of violence. Additionally, the SAFJC is currently in partnership with The Family Justice Center Alliance for HOPE International. While organic and community-based solutions are the best solution to complex social problems, adhering to the Family Justice Center Guiding Principles and committing to integrated work among partner agencies can help enhance victim safety and offender accountability.
"The SAFJC is the first family resource center of its kind, co-located within a main Police Administration building in the country. Our collective success is a blessing to the community we serve and could not have been possible without the vision of founding members of the City of Santa Ana, Police Department personnel, the vibrant and committed non-profit providers and especially our Santa Ana community, that has demonstrated the faith, trust and confidence in the critical trauma informed services we provide", said Chief David Valentin.
Join us in congratulating the Santa Ana Family Justice Center Team on their three-year anniversary!
SAFJC Statistics
2020-2022
Total clients served in the center: 1,111
Total calls to the center: 3,597
Total number of services to survivors: 4,614
Outreach participants served: 7,431
Anyone who believes they or someone they know is a victim of domestic violence, sexual assault, child abuse, human trafficking, or elder abuse is encouraged to visit or call the Family Justice Center. For additional information or to speak to an advocate, contact: Main Line: (714) 245-8278 or Email: FamilyJusticeCenter@santa-ana.org