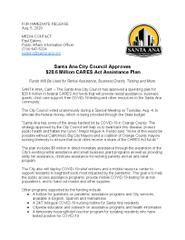 SANTA ANA, Calif. – The Santa Ana City Council has approved a spending plan for $28.6 million in federal CARES Act funds that will provide rental assistance, business grants, child care support, free COVID-19 testing and other resources to the Santa Ana community.
The City Council voted unanimously during a Special Meeting on Tuesday, Aug. 4, to allocate the federal money, which is being provided through the State budget.
"Santa Ana has some of the areas hardest hit by COVID-19 in Orange County. The strategy approved by the City Council will help us to beat back this disease, protect public health and flatten the curve," Mayor Miguel A. Pulido said. "None of this would be possible without California's Big City Mayors and a coalition of Orange County mayors working tirelessly to ensure that local cities receive a share of the CARES Act funds."
The plan includes $8 million in direct monetary assistance through the expansion of the City's existing rental assistance and small business grant programs as well as providing utility bill assistance, childcare assistance for working parents and an arts relief program.
The City also will deploy COVID-19 relief workers and a mobile resource center to support residents in neighborhoods most impacted by the pandemic. The goal is to help the public access assistance programs, provide mobile COVID-19 testing for at-risk populations, and to hand out masks and other supplies.
Other programs supported by the funding include:
• A hotline for questions on pandemic assistance programs and City services, available in English, Spanish and Vietnamese
• A 24/7 trilingual COVID-19 nursing hotline for Santa Ana residents
• Citywide education and outreach on assistance programs and health information
• A temporary housing/hotel voucher program for isolating residents who have tested positive for COVID-19
• Additional sanitization of public facilities such as bus shelters and crosswalk buttons
More details will be provided when these programs launch later this month.
"We must provide robust rental assistance and do mobile testing in our neighborhoods that have been most impacted by the coronavirus," Ward 1 Councilmember Vicente Sarmiento said. "We should also consider creating an eviction defense fund to help our residents and tenants who are at risk of being displaced."
Ward 2 Councilmember David Penaloza stated:
"It was important for me to personally advocate for our local businesses as well as to allow internet service to be eligible as part of the utility payment assistance funds for local families. In this day and age, access to the internet is an essential service needed for education, healthcare, and employment. I'm happy we'll be able to assist the hardest hit areas in our city."
"I think we agreed on a good game plan to keep fighting COVID-19," Ward 3 Councilmember Jose Solorio said. "I'm especially hopeful we can find ways to do extra check-ins on our seniors and at-risk residents, help our families and economy with more rental assistance and small business grants, and build partnerships with our schools and non-profits to help our students with long-distance education programs and WiFi services."
"This funding will provide much-needed assistance to our city's renters and small businesses that have been severely impacted by this pandemic," Ward 4 Councilmember Phil Bacerra said.
"I'm happy to see we are helping working parents with childcare so they can get back to work," said Mayor Pro Tem Juan Villegas of Ward 5. "I'm also glad we are helping our downtown restaurants and those with private parking areas by allowing them to use outdoor seating."
Ward 6 Councilmember Nelida Mendoza stated:
"Santa Ana residents deserve expedient COVID-19 testing. With these CARES Act funds, free testing will soon be available to help protect our high-risk neighborhoods. Thanks to the strong efforts of our mayor, City Manager and staff, Santa Ana received these critical funds."