News and Updates
Sign up to receive important updates on the Rent Stabilization and Just Cause Eviction Ordinance by clicking the link below.
Rental Registry
On August 15, 2023, the City of Santa Ana launched the Rental Registry. Under the Rent Stabilization and Just Cause Eviction Ordinance, the City must create a Rental Registry and all landlords with rental units in the City of Santa Ana must complete and submit registration forms for each rental unit. The Rental Registry is an online portal where landlords must register their rental units, update rental unit information, update tenancy information, submit notices, and pay the City's rental registry fee if applicable.
The City of Santa Ana also created a comprehensive webpage with information about the Rental Registry including helpful resources such as a User Guide, FAQs, recorded demonstrations, and a PowerPoint presentation. Click the link below to visit the Rental Registry webpage. Staff and computers are also available for you by appointment at our WORK Center at 801 W Civic Center Drive, Suite 200, Santa Ana, CA 92701.
Rental Housing Board
Effective November 18, 2022, City Council adopted the Rent Stabilization and Just Cause Eviction Ordinance ("Ordinance"). The Ordinance provides for the administration and enforcement of renter protections for Santa Ana renters by establishing a Rental Housing Board.
Under Section 8-3180 of the Ordinance, the Rental Housing Board ("Board") shall consist of seven (7) Board Members. Each City Councilmember shall appoint one (1) Board Member, to be approved by the City Council, in an equitable order based upon a random lottery process. The Board shall be comprised of:
Three (3) Tenants, including at least one (1) Mobilehome Tenant;
Two (2) Landlords; and
Two (2) at-large Members with no financial interest in and no ownership of income-generating rental housing. (For example, an owner of a single-family dwelling that lives in that dwelling.)
Applications are currently being accepted and are located on the City Clerk's Office website at www.santa-ana.org/rental-housing-board. If you or someone you know may be interested in serving on the Rental Housing Board, we encourage you to apply.
Serving our Residents
City staff serves the public on a daily basis by responding to telephone and email inquiries about the Rent Stabilization and Just Cause Eviction Ordinance and general landlord/tenant issues. Persons contacting the City include landlords, tenants, real estate brokers, prospective tenants and prospective property owners. The most common topics of concern are evictions, allowable rent increases, and the City's Rental Registry.
In previous newsletters, staff shared a table titled "Rent Increase and Eviction Notices Received from Landlords". Now that the City's Rental Registry was launched on August 15, 2023, landlords are required to upload their documents in the Rental Registry. Specifically, "Any notices or documents required to be provided from a Landlord to a Tenant by this Article or any other federal, state, or local law, including, but not limited to, notice of Rent Increase and notice of eviction, shall be provided to the City through the Rental Registry portal." Staff will research how this information can continue to be shared in the future but for now, this table is no longer available.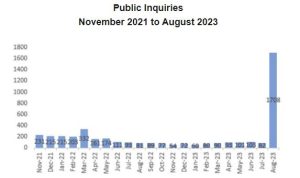 Know your rights
If you believe the owner or property manager for your rental unit or mobilehome may not be in compliance with the Ordinance, or you need assistance interpreting the Ordinance, please reach out to one of the City's community partners:
Fair Housing Council of Orange County
2021 E. 4th Street, Suite 122
Santa Ana, CA 92705
Phone: 714-569-0823 Option 4
Community Legal Aid SoCal
2101 North Tustin Avenue
Santa Ana, CA 92705
Phone: 714-571-5200
Public Law Center
601 Civic Center Drive West
Santa Ana, CA 92701
Phone: 714-541-1010 x 303
Latino Health Access
450 W 4th Street
Santa Ana, CA 92701
Phone: 714-542-7792
Please be advised, the City does not recommend or endorse any particular law firm or agency, but leaves it up to tenants to determine their best course of action and chosen representation, if necessary.
Contact us:
20 Civic Center Plaza
Santa Ana, CA 92702
Email: rso@santa-ana.org 
Tel: (714) 667-2209
Fax: (714) 547-5411
Quick links:
If you have any difficulty connecting with the links in this Newsletter, enter the following website address into an internet browser to explore the City's website – www.santa-ana.org/renter-protections