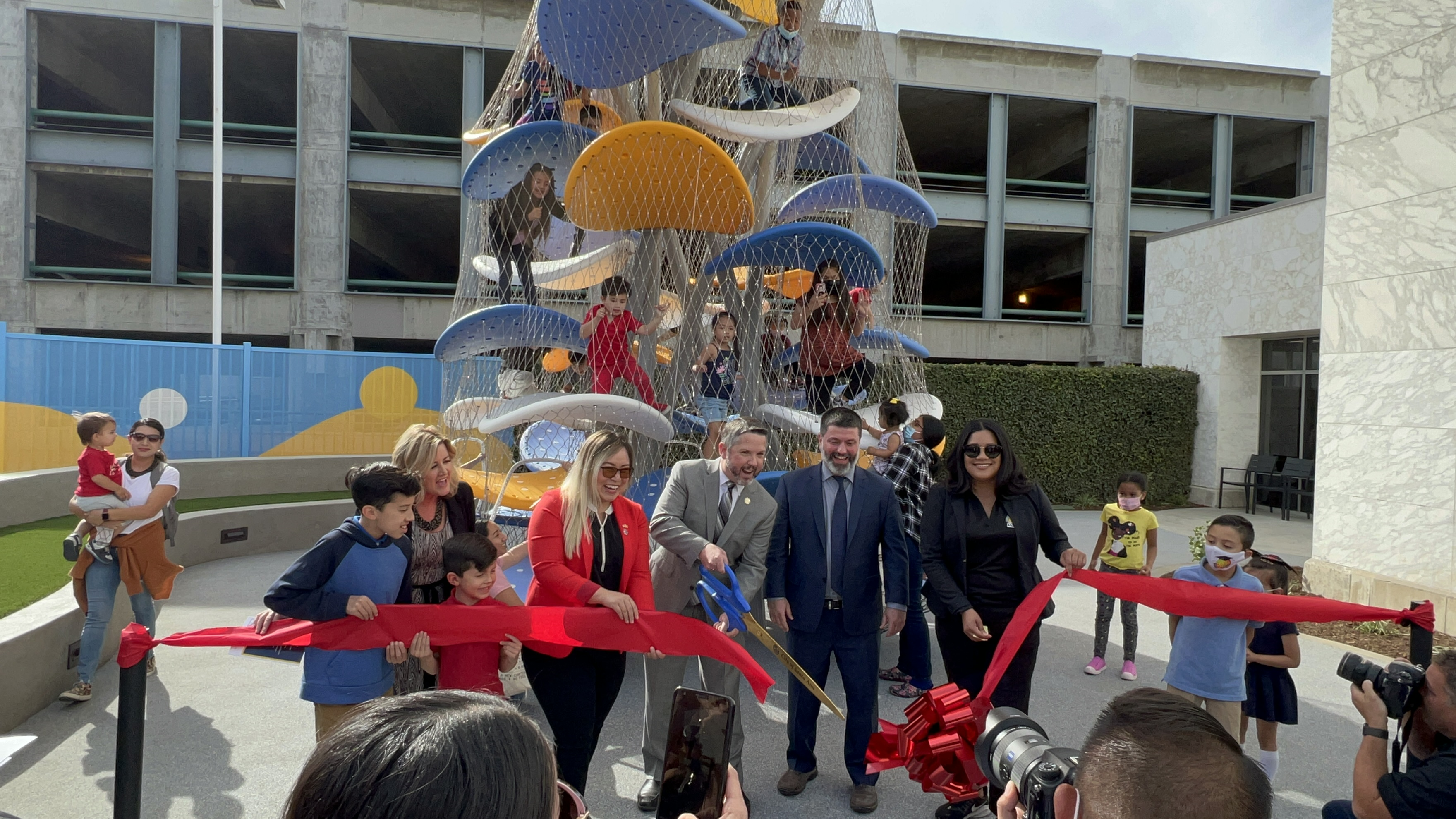 FOR IMMEDIATE RELEASE
March 15, 2022
MEDIA CONTACT:
Paul Eakins
Public Affairs Information Officer
(714) 647-5224
peakins@santa-ana.org
City officials had a ribbon-cutting event for the cannabis tax-funded project on March 15.
SANTA ANA, Calif. – The Santa Ana Public Library opened the new Play and Learn Children's Patio on Tuesday, March 15, as the first step of a major renovation to create a modern and interactive learning ecosystem
The Children's Patio includes a whimsical Luckey Climber play structure, outdoor reading areas, new landscaping and play surfaces, along with flexible activity spaces for library programming. It is located behind the Library with access from the children's area inside.
At Tuesday's ribbon cutting, City Councilmembers, City officials and library staff celebrated the opening as local children enjoyed the new space. The event also featured new library STEAM (Science, Technology, Engineering, Art and Mathematics) programs that are part of the Revive Santa Ana pandemic recovery initiative funded by the American Rescue Plan Act (ARPA.)
"The Play and Learn Children's Patio will empower children and their families to explore the resources offered by the Santa Ana Public Library and offer them the opportunity to spend time together in a safe and family-friendly space where they can build enjoyable memories," Mayor Pro Tem Phil Bacerra said.
The $884,000 project is made possible by the City of Santa Ana's Cannabis Public Benefit Fund supported by taxes paid from legal recreational marijuana sales.
Further renovations and program expansions at the City's historical 1960 Main Library at Civic Center Drive and Ross Street, as well as at the Newhope Street branch, are planned using federal ARPA funds.
"With the completion of the Play and Learn Children's Patio, the Santa Ana Public Library begins a new chapter," Library Services Director Brian Sternberg said. "This next chapter prioritizes innovative new services, facilities and programs that focus on interactive learning and recreational experiences for the entire family."
The Santa Ana Public Library serves approximately 200,000 patrons annually and has 400,000 books, magazines, computers, mobile hotspots, and other materials and resources. The library offers a variety of programming for children, teens and adults, including digital literacy classes, robotics programs, online tutoring, reading programs, and more.
# # #
About Santa Ana
Santa Ana is downtown for the world famous Orange County, California. It is the County Seat, the second-most populous city in Orange County, and is home to a vibrant evening scene and arts community. Over 1,400 City employees work hard every day to deliver efficient public services in partnership with our community to ensure public safety, a prosperous economic environment, opportunities for our youth, and a high quality of life for residents. Learn more at www.santa-ana.org.