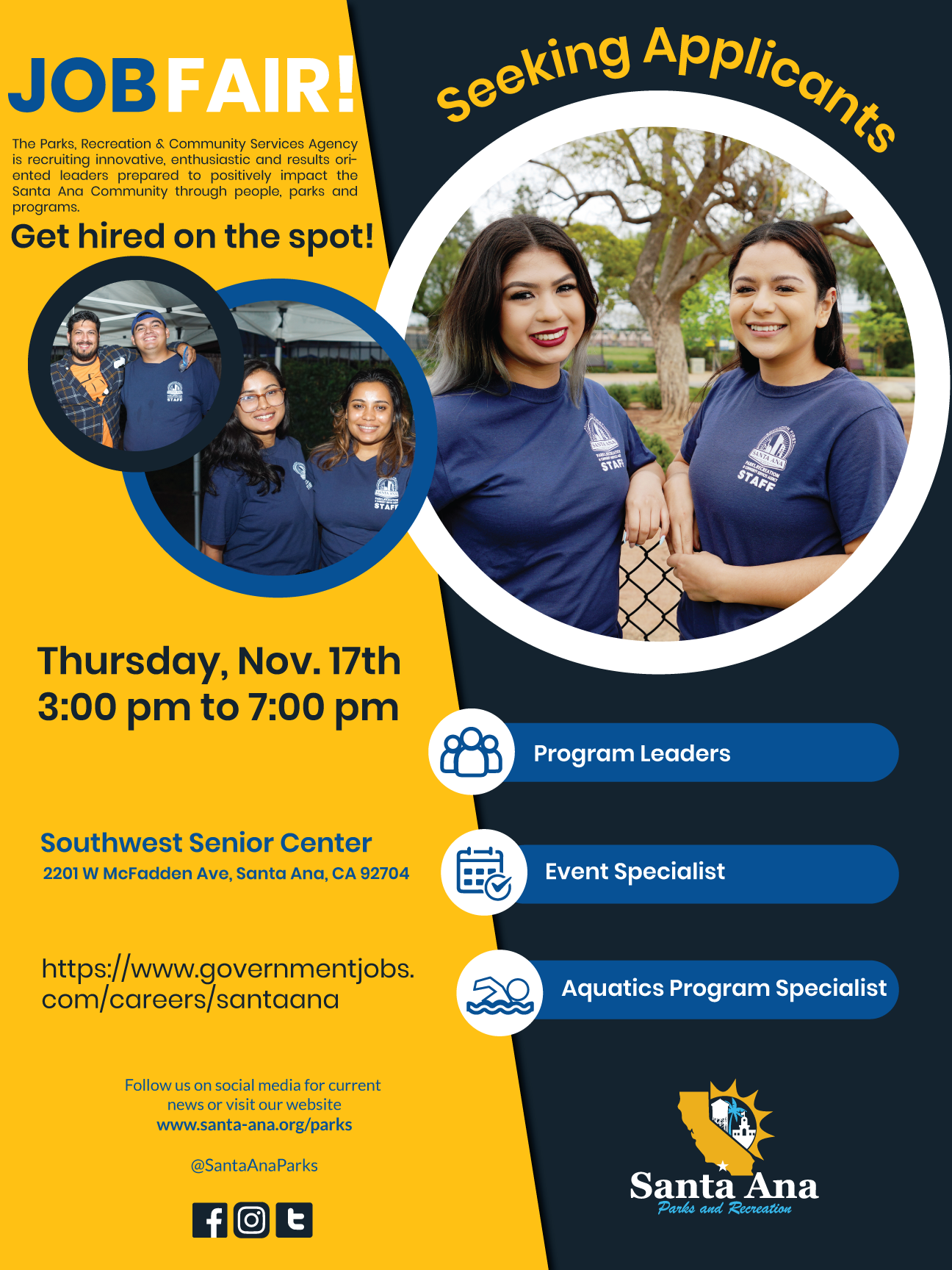 WE ARE HIRING! The Santa Ana Parks, Recreation & Community Services Department is actively recruiting innovative, enthusiastic and results driven leaders to make a positive impact in Santa Ana through people, parks and programs. The City of Santa Ana is hosting an upcoming Job Fair. Details of the event can be found below:
Date: Thursday, Nov. 17th, 2022
Time: 3 p.m to 7 p.m.
Location: Southwest Senior Center, 2201 W. McFadden Ave., Santa Ana, CA 92704
Stop by the Southwest Senior Center if you have an interest in serving your community and joining a team of passionate professionals. Apply in-person at our Job Fair on Thursday, Nov. 17th and get hired on the spot!
*Please bring acceptable forms of ID for work authorization purposes.
One of:
U.S. passport, permanent resident card, foreign passport with temporary I-551 stamp, employment authorization document with photo (Form I-766), OR foreign passport with form I-94 or for I-94A.
OR
Two of (one from each list):
 Driver's license, government issued identification card with photo, school identification card with photo, voter's registration card, U.S. military card, military dependent's identification card, U.S. Coast Guard Merchant Mariner card, Native American tribal document, or driver's license issued Canadian government authority.  For those under 18 who are unable to present a document from the list can provide: school record or report card, doctor record, or day-care record.
Social security account number card, birth certificate, Native American tribal document, U.S. citizen identification card form I-179, employment authorization document issued by the Department of Homeland Security.
For more information on the list of acceptable identification documents, please call 714-571-4200.