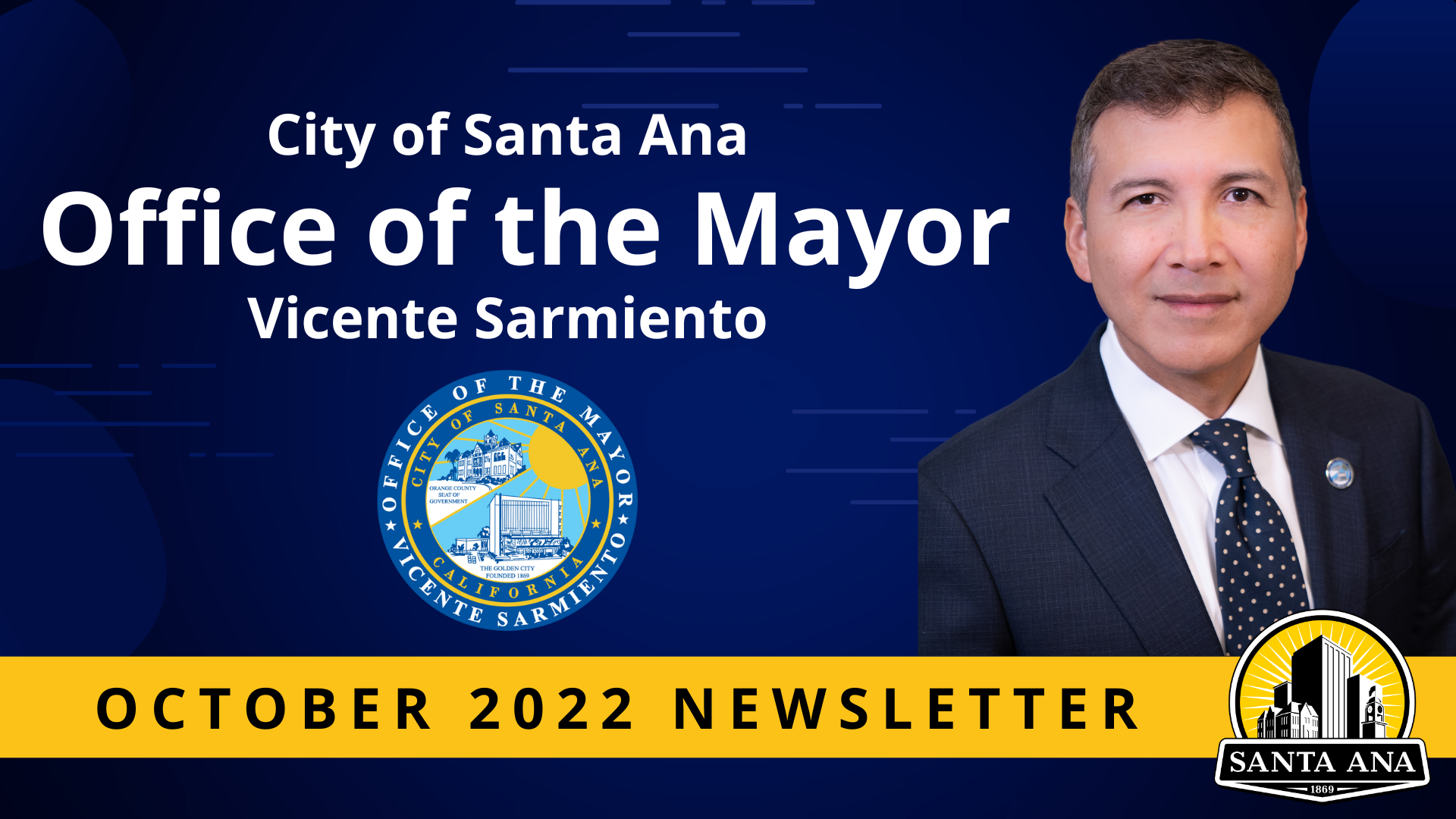 Happy fall!
From warm summer nights to cool breezy days, the fall season is officially here. I hope you've had the opportunity to check out our recent events, which include the Mid-Autumn Festival, Indigenous Peoples Day celebration, and our Halloween movie series at Birch Park. In Santa Ana, we are proud to host events that empower our communities and bring families together. If you haven't done so, I highly encourage you to check out our upcoming events that might interest you. We hope to see you there!
It's almost time for trick-or-treating! Are you ready for an exciting, family-fun evening? As we approach Halloween, remember to stay safe, travel in groups, and check your candy. Don't forget to visit the Santa Ana Public Library for some spooky books.
At City Hall, my colleagues and I on the City Council have been busy making important decisions to move Santa Ana forward. To stay on top of what's happening at City Council meetings, visit our website to review meeting agendas, find out when we meet (we meet on the first and third Tuesdays of each month at 5:45 p.m.), and learn how to participate in our meetings virtually or in person.
Thank you for being part of the Santa Ana community. Stay safe and remember you're too blessed to be stressed!
Happy Sunday!
Vicente Sarmiento
Mayor
---
News and updates
City of Santa Ana empowers our Latino community
On the first days of Hispanic Heritage Month, Santa Ana was proud to host the 42nd annual Fiestas Patrias, which commemorates a series of holidays that mark the independence of various Latin countries and celebrate the beautiful Latino culture. Latino musicians were featured, such as Beatriz Adriana, Raymix, and El Chapo de Sinaloa. With the help of various sponsors, vendors, and volunteers, we were able to have a successful event!
We recently celebrated our first ever Chicano Heritage Festival at EL Salvador Park. I was reminded not only of the uniqueness in our culture, but of the strength, resilience, and love we hold as a community. Thank you everyone for such a successful event!
---
Voting information
Make sure to vote on or before November 8–Election Day!
Voting is essential in order for your voice to be heard. There are various ways that you can make sure you vote. You can vote by mail, vote in person, or drop off your completed ballot at a vote center or ballot drop box.
Remember, you can register to vote on Election Day–just stop by a vote center near you.
If you have already submitted your ballot, you can track it to make sure your ballot has been received and counted. You can track your ballot on the County of Orange's Registrar of Voters website.
Learn about Santa Ana local elections
---
Spotlight: Meet our high school volunteer intern, Jesse Alarcon
Jesse Alarcon grew up in Santa Ana and is a senior at Godinez Fundamental High School. He currently holds a 4.5 GPA and is doing dual enrollment at Santa Ana College. Jesse started interning with me earlier this summer. He has worked on various projects and constituent engagements during his time with me. Jesse is passionate about working with the community and someday hopes to establish his law firm here in Santa Ana as an immigration attorney. He is an advocate for immigrant rights and wants to inspire the next generation of scholars.
An ambitious student, Jesse's biggest aspiration is to attend Harvard University. He plans to use his education to further empower our Santa Ana community. I am proud to call Jesse my mentee. I support him in his journey of applying to Harvard University and achieving his goal of giving back to our community. Thank you Jesse for all you do!
---
Recent recognitions
Banda de Guerra Osos de California
Banda de Guerra Osos de California performed the Grito during this year 's Fiestas Patrias. They were established in Santa Ana 11 years ago. During these 11 years, they have performed El Grito in several locations. However, this was the first time they performed El Grito for their city. Thank you!
---
Santa Ana Unified School District's Speech & Debate Team
The Santa Ana Unified School District's Speech & Debate Program was created in 2016 and competes in the National Speech & Debate Association's Annual Tournament. Since then, the Speech & Debate program has earned the school district three national titles. This year, hundreds of elementary and intermediate school students from across the nation participated in the District's 2022 Speech & Debate Mardi Gras Tournament.
Last month, I invited the Speech & Debate team finalists to a City Council meeting to be recognized:
Miguel Carretero
Destiny Ceja
Grace Tinajero
Anna Cecilia Fierro
Kassandra Rios
Congratulations to the Santa Ana Unified School District's Speech & Debate Team–and a special thank-you to Director Sal Tinajero and Coach Erika Benavides for their outstanding contributions to the academic achievements of our youth.
---
Office hours
Do you have a question about a City service? Or perhaps want to discuss a policy issue? Connect with me every Wednesday from 11 a.m. to 3 p.m. during my weekly office hours.
How to join
Contact my secretary, Rosa Flores, at rflores@santa-ana.org or (714) 647-6900 to set up an appointment.
---
City updates and highlights
City of Santa Ana opposes judge's decision to allow County cold weather shelter at Armory
The City of Santa Ana was disheartened and disappointed to learn that on Friday, October 21, U.S. District Judge David O. Carter gave the green light to the County of Orange to open a cold weather shelter at the National Guard Armory located at 612 E Warner Avenue in Santa Ana. This followed his ruling just one week earlier blocking the County's attempt to open a cold weather shelter in Santa Ana. It isn't clear whether a cold weather shelter at the Armory will actually open, as the County stated several times at Friday's hearing that it had not been able to find a provider to operate the shelter.
Although I have tremendous respect for the Court, the drastic reversal by Judge Carter to allow the County of Orange to force yet another homeless shelter on the people of Santa Ana is a slap in the face of our community. The City and people of Santa Ana shouldn't have to take on this responsibility and the impacts to our streets, neighborhoods and businesses time and again, while more affluent cities do nothing.
---
Santa Ana establishes sister city partnership with Sahuayo, Mexico
Earlier this month, we celebrated our new sister city relationship with Sahuayo, Mexico. To commemorate the occasion, we held a ceremonial signing of the sister city resolution that was unanimously approved by the Santa Ana City Council on Oct. 4. I was joined at City Hall by my City Council colleagues, Sahuayo Mayor Dr. Manuel Gálvez Sánchez, Sahuayo Councilmembers, Mexican Consul Audrey Rivera Gomez, and members of the Santa Ana-based Fundación Sahuayo.
As sister cities, there is much symbolism, but also the two cities are taking concrete actions. We are seeing how we can share art, culture, economic development, and those links between the two cities that we know are very deep here in Santa Ana.
---
Events
Boo at the Zoo – Sunday, October 30 (TODAY!)

Follow a fun Halloween trick-or-treat trail through the Santa Ana Zoo after hours. You'll discover our "merry, not scary" decorations along the way, making this an activity the whole family can enjoy together, wearing family-friendly costumes, taking photos.
Guests will have the opportunity to explore 10 prize stations on the Trick-or-Treat Trail, enjoy a variety of Halloween-themed games and activities–including storytelling, sing-alongs, and visits with nocturnal animals.
Date
Sunday, October 30 (TODAY!)
Time
5:30 to 7:30 p.m.
Location
Santa Ana Zoo, 1801 E Chestnut Avenue, Santa Ana, CA 92701
Ticket prices
General admission is $29.95 for ages 3 and up
$14.95 for Zoo members ages 3 and up
Children under the age of 3 can attend for free.
Boo at the Zoo is a fundraiser hosted by Friends of the Santa Ana Zoo to help upgrade the primate habitats.
---
Code enforcement workshop – Thursday, November 3 and 10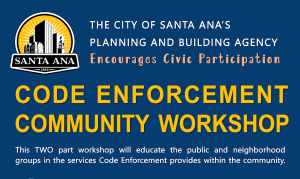 This two-part workshop will educate the public and neighborhood groups about the services our Code Enforcement Division provides within the community. Understand the importance of Code Enforcement and what they do, learn about the enforcement tools used and due process, discover how code violations affect our community, learn how to report code violations, and how to work with the Code Enforcement Division.
Dates and times
Part 1 – Thursday, November 3: 6-8:30 p.m.
Part 2 – Thursday, November 10: 6-8:30 p.m.
Location
Santa Ana College Johnson Center, Conference Room JSC 219-4, 1530 W 17th Street, Santa Ana, CA 92706
Register
RSVP by October 31 to reserve your seat. For any questions, contact the Code Enforcement Division at (714) 667-2780.
---
Bowers Museum Mexican Day of the Dead festival – Sunday, November 6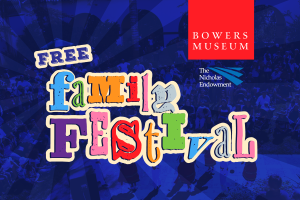 Observe Mexican Day of the Dead at Bowers Museum as we remember those friends and family members that are no longer with us. Celebrate the joy and happiness they brought into our lives with music, dance, art, and special foods. Bring a photo for the Ofrendas (memorial altar) honoring loved ones and that special pet that left too soon. Enjoy performances by Mariachi Anacatlán, Relámpago del Cielo, Los Cuates, Xipe Totec and Joel Aceves.
Date
Sunday, November 6
Time
11 a.m. to 3 p.m.
Location
Bowers Museum, 2002 N Main Street, Santa Ana, CA 92706
---
COVID-19 testing and vaccines
In Santa Ana, we have multiple ways for you to get tested for COVID-19, such as through testing sites, at-home tests, and mobile clinics. If you have experienced any symptoms or potential exposure, we encourage you to utilize our resources.
COVID-19 vaccines are widely available for everyone six months and older. To get vaccinated, please visit one of our local vaccine sites or go to our website.
Find COVID-19 vaccines, testing locations, and other resources
---
Useful resources