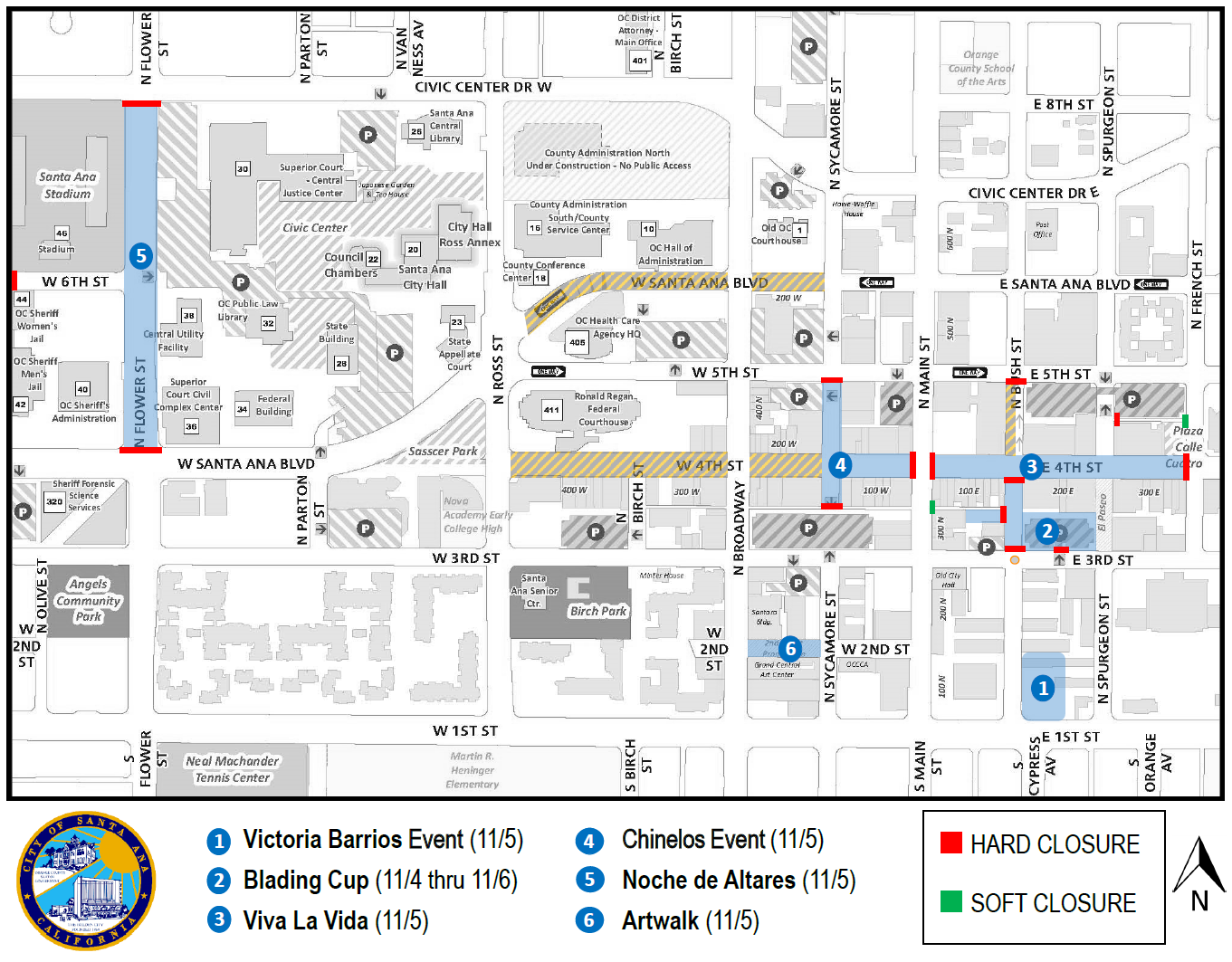 There will be major street closures and traffic impacts throughout Downtown Santa Ana due to several special events this weekend, beginning Friday, Nov. 4, through Monday, Nov. 7. The following street closures will be in effect for these events:
6 a.m. Friday, Nov. 4 to 6 a.m. Monday, Nov. 7:
Blading Cup

Full closure on Bush Street between 3rd and 4th streets.
Full closure of the parking lot on the corner of 3rd and Bush streets
Access to the alley between Main and Bush Street and between 3rd and 4th streets will be limited.
6 a.m. Saturday, Nov. 5 to 6 a.m. Sunday, Nov. 6:
Noche de Altares

Full closure on Flower Street between Civic Center Drive and Santa Ana Boulevard
Full closure on 6th Street between Flower Street and Coach Dick Hill Way

Chinelos Event

Full closure on Sycamore Street between 5th and 4th streets
Full closure on 4th Street between Broadway and Main Street.

Viva La Vida

Full closure on 4th St. between Main and French streets.
Full closure of Bush St. between 4th and 5th streets.
No street closures but will potentially impact downtown traffic on Saturday, Nov. 5:
Victoria Barrios Event

Blue Lot on the corner of 1st and Bush streets

Artwalk

2nd Street Promenade between Broadway and Sycamore Street
Access to businesses will be maintained at all times. We recommend using alternate routes or plan for possible delays since the closures will impact traffic flow. We apologize for any inconvenience and thank you for understanding.