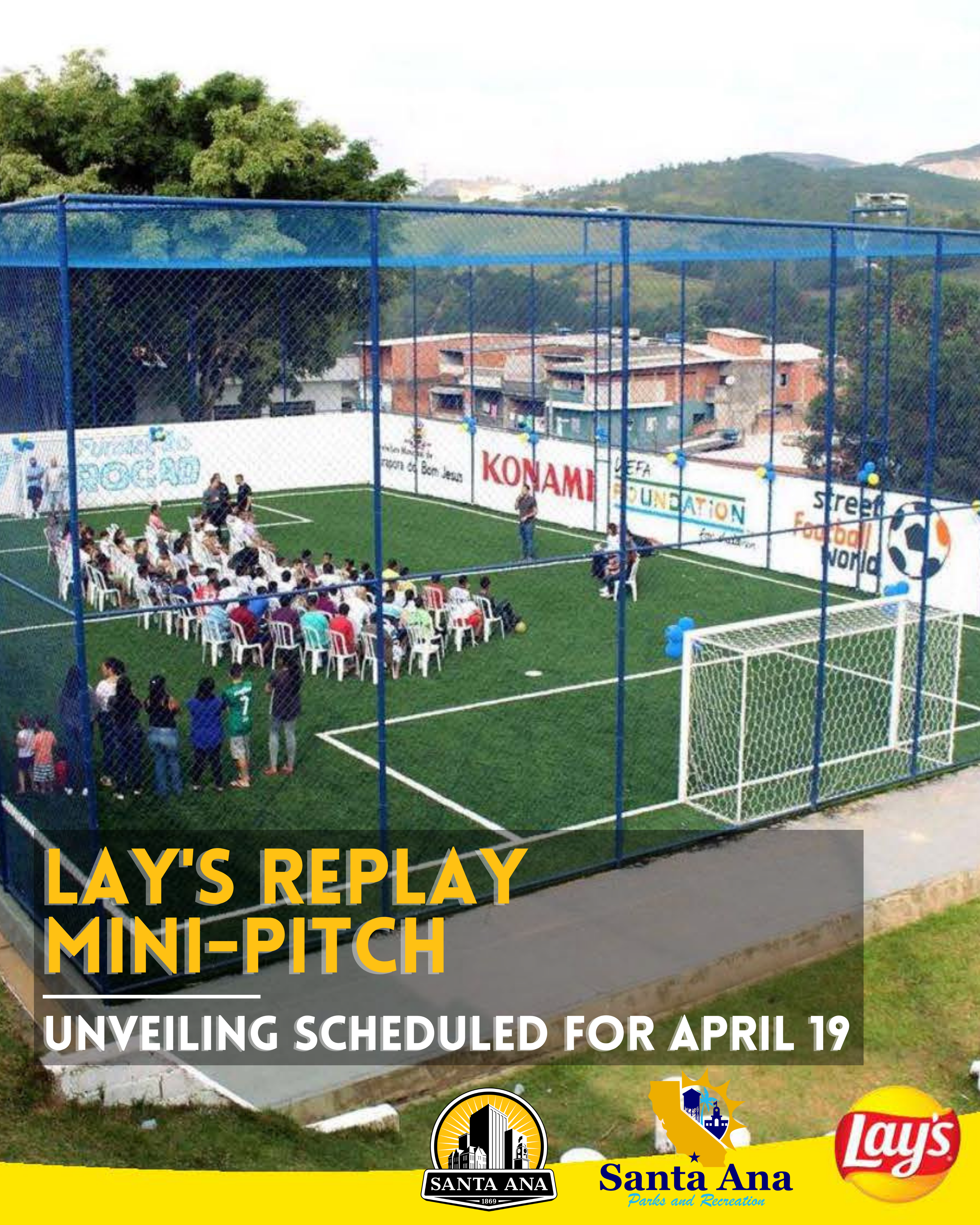 Construction starting March 15, 2023 in preparation for project unveiling tentatively scheduled for April 19, 2023.
The City of Santa Ana, in collaboration with Lay's RePlay, is excited to announce a new community project, bringing a sustainable artificial turf field to Cesar Chavez Campesino Park.  Lay's RePlay is an innovative global initiative partnering with the Union of European Football Association (UEFA) Foundation for Children and Common Goal aiming to "bring joy to communities around the world by transforming empty chip packets into sustainable football pitches, leading to positive outcomes for people and the planet."
This field marks the first of its kind in Northern America right here in Santa Ana. RePlay fields have made a global impact and established fields in the UK, South Africa, Brazil, Italy, Mexico, Turkey, and Egypt. Partially created from empty chip packets, these projects have a net-zero carbon footprint and create a truly unique playing surface perfect for Santa Ana residents.
This project will provide Santa Ana with an artificial five-a-side field ideal for communities with limited access to spaces where they can enjoy the game of soccer and develop their skills. Each RePlay field is constructed through an ecofriendly approach by using 100% recyclable materials, therefore minimizing greenhouse gas emissions. With the help of Lay's Replay and their local partners, the City of Santa Ana strives to reimagine a part of Cesar Chavez Campesino Park into an area that can bring people together and make sports accessible at a local level.
Lay's RePlay emphasizes a sense of community and teamwork by ensuring Santa Ana community members were involved in every step of the process from planning.  Construction for this park project will begin on March 15, 2023. The project is expected to impact Cesar Chavez Campesino Park in the form of partial closures and it is tentatively scheduled to be completed by April 19th. No City of Santa Ana general funds were used for this project as it will be completed under a donation agreement with Common Goal.
Upon completion of the field, the Lay's team will collaborate with community to organize an inauguration event. Stay tuned for information about the unveiling event in April that will celebrate all partners involved in developing a project that will create a safe and public space for the community to host various sports programs and workshops.