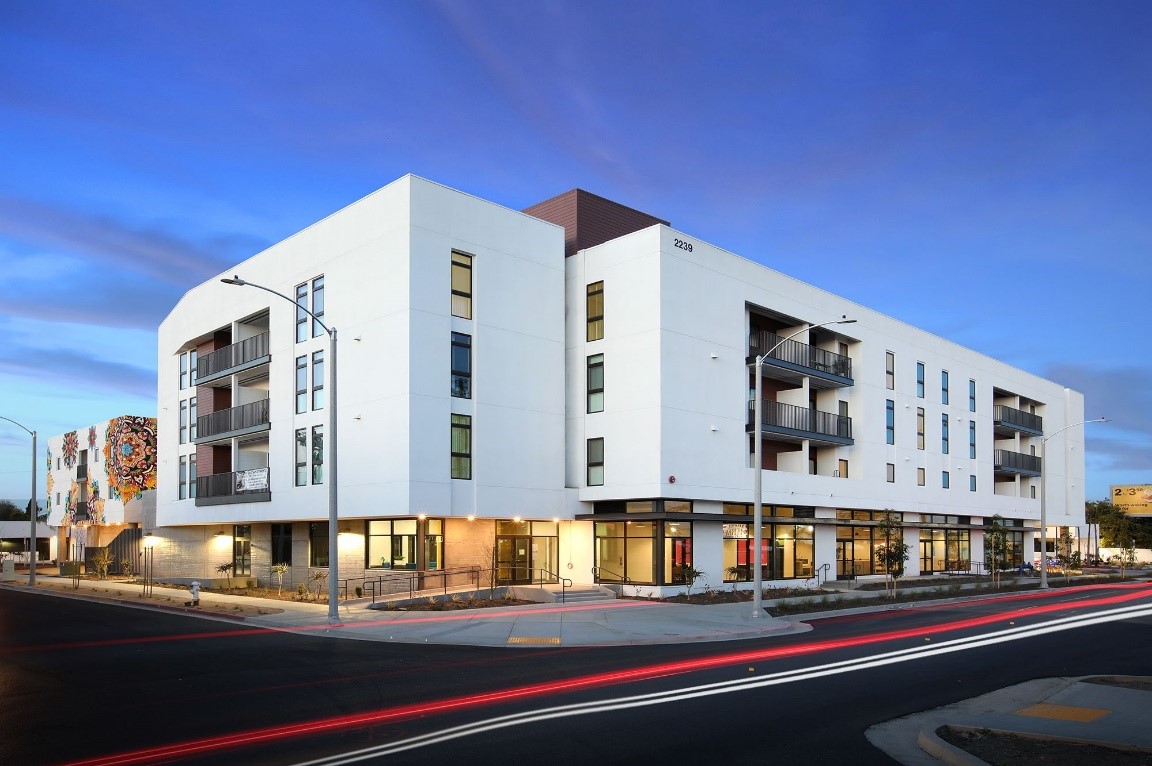 La Placita Cinco repurposes an auto-oriented strip mall into a neighborhood-serving, inclusive community consisting of 51 family-oriented affordable homes, outdoor amenities, and a reinvigorated commercial center.
The Urban Land Institute has announced that La Placita Cinco in Santa Ana has won a Jack Kemp Excellence in Affordable and Workforce Housing Award. The award was established in 2008 and named in memory of Jack Kemp, former secretary of the U.S. Department of Housing and Urban Development. It honors developments that meet affordable and workforce housing needs and help to create mixed-income communities.
La Placita Cinco is a 51-unit affordable housing community that includes residential and retail. The project includes $6 million in funding from the City of Santa Ana and will provide much-needed affordable housing to Orange County.
Located at 2239 W. 5th St., La Placita Cinco includes 20 two-bedroom units, 29 three-bedroom units, and 2 four-bedroom units. Available units and monthly rent levels range from $881 to $2,154. The new residential development is a four-level single structure building with a mix of units targeted for families between 30 percent and 60 percent of the Area Median Income.
Making everything possible was the support from the City of Santa Ana, which approved not only all the necessary entitlements, but also $6 million in subordinated funding to ensure the financial feasibility of the project. Ali Pezeshkpour, principal planner for the City of Santa Ana, said the city was honored and happy to win such a prestigious award.
"We worked very closely with the developers, community, architects and other agencies to create a plan that met the City's housing needs and bring fresh investment into this core neighborhood. La Placita Cinco is a successful example of weaving much-needed affordable housing into the fabric of an existing residential neighborhood by reimagining under-utilized commercial properties," said Pezeshkpour.
Located in the Artesia Pilar neighborhood of Santa Ana near the newly anticipated OC Streetcar, La Placita Cinco replaces a former gas station with a four-story mixed-use building. The community consists of 51 units with ground floor space that can be used by residents for a variety of purposes. La Placita Cinco carefully preserved the site's original commercial buildings, which contain several retailers. This allowed the businesses to remain open while the project was under construction.
Developers Community Development Partners and Magis Realty say that La Placita Cinco revitalizes an underutilized strip center in a neighborhood that has not seen significant investment in over five decades. It is drawing attention due to its proximity to the city's plan to develop a new light rail along 5th Street where the project is located.
"Our goal was to build open social spaces so residents can come together and connect with their neighbors, the existing retailers, as well as the greater Artesia Pilar neighborhood" said Kyle Paine, President of Community Development Partners. "Aligned with the desire of the City to have high-quality housing options located along the light rail, La Placita Cinco presented a great opportunity to turn the desire into reality. As such, it's development forged new paths – adjusting its design and details to accommodate the requests of the community like lower density, additional parking and enhanced site amenities, plus, requests from the city for larger, family-oriented housing units, significant street improvements, and financial partners."
Developers and designers say that La Placita Cinco is a prototypical example of revitalizing a suburban style strip retail center in order to better serve the surrounding community.
"Ultimately, our intent was to provide vibrant retail and residential, while revitalizing this neighborhood in Santa Ana," said Tim Mustard, Principal at TCA Architects. "Our team members truly made this mixed-use come together in a sustainable and pedestrian-friendly manner. The residential component provides 24/7 presence by locating housing in direct proximity to shopping and working environments. Horizontal proximity integrates these essential uses supporting a sustainable, pedestrian friendly and livable environment. Ultimately, the intent is to energize the community with a variety of demographics by providing a choice in housing solutions that in turn creates a vibrant social fabric."
La Placita Cinco thoughtfully incorporated a public park and open space between the two commercial buildings and residential building; allowing for a variety of public uses such as gathering spaces for local patrons and workers, farmer's markets, outdoor concerts and community gardening. Also, a ground level community space is available for resident and community services. Mercy House, which is operating La Placita Cinco, has already successfully held several events since the project officially opened in June.
"La Placita Cinco represents a replicable model for repurposing auto-oriented commercial properties into a mixed-use neighborhood serving centers that includes new homes and community amenities, while retaining and lifting up the existing businesses." said City Fabrick Principal Brian Ulaszewski.
The site, formerly called "Tiny Tim Plaza" is a 2.25-acre commercial property located at the northeast corner of Fifth and Hawley streets in the heart of Santa Ana. According to TCA Architects, La Placita Cinco is a great example of how developers can revitalize old strip shopping centers, especially ones anchored by gas stations.
"This project checks all the boxes — it includes a $6 million grant from the City, it provides affordable housing, it's mixed-use, it includes public art, it revitalizes a core neighborhood, while providing public space for community events. It is important to recognize the incredible value this underserved strip malls potential by integrating families into a new, vibrant walkable community. Think about how many strip centers can use this as a prototype for bringing life to an aging asset," said Mustard.
La Placita Cinco is intended to reflect the cultural diversity of the Artesia Pilar neighborhood and broader City of Santa Ana both architecturally and artistically. A curated mural on the prominent corner of the building was created by local artists Brian Peterson of Faces of Santa Ana and Damin Lujan.
The project leveraged traditional and innovative funding sources that are unique to rehabilitating a blighted commercial property with affordable housing. In its final form La Placita Cinco is supported through a 9 percent tax credit award, and cooperative lender and investor partners which supported both the new construction of affordable residential units with the renovations of the existing site and buildings, said developers.
Along with the City of Santa Ana, La Placita Cinco was developed by Community Development Partners and Magis Realty, designed by City Fabrick and is property managed by FPI Management with services and programming provided by Mercy House. Other core partners include TCA Architects (Architect of Record), JDLA (Landscape Architect), Walton Construction (General Contractor) and Ware Malcomb (Civil Engineer). Funding partners include the following: City of Santa Ana Low- and Moderate-Income Housing Asset Fund (LMIHAF) and Inclusionary Housing Fund, 9 percent Low Income Housing Tax Credits, long term debt from Freddie Mac, and construction financing from Citibank, and Tax Credit equity from R4 Capital.
About the Urban Land Institute
The Urban Land Institute is a nonprofit education and research institute supported by its members. Its mission is to shape the future of the built environment for transformative impact in communities worldwide. Established in 1936, the Institute has more than 45,000 members worldwide representing all aspects of land use and development disciplines.
About Santa Ana
Santa Ana is downtown for the world famous Orange County, California. It is the County Seat, the second-most populous city in Orange County, and is home to a vibrant evening scene and arts community. Over 1,200 City employees work hard every day to deliver efficient public services in partnership with our community to ensure public safety, a prosperous economic environment, opportunities for our youth, and a high quality of life for residents. Learn more at www.santa-ana.org.
About Community Development Partners
Founded in 2011, Community Development Partners develops and operates sustainable, life-enhancing affordable housing with a focus on long term community engagement and innovative design. The company's mission is to repair and strengthen the fabric of cities and towns by meeting the housing needs of local citizens through the thoughtful planning and creative development of sustainable, affordable communities. The company has offices in Newport Beach, California and Portland, Oregon and has developed and currently operates properties in Arizona, California, Nevada, and Oregon.  For more information, please visit: https://communitydevpartners.com.
About City Fabrick
Established in 2011, City Fabrick is a nonprofit urban design studio reshaping, restoring, and empowering communities through collaborative public-interest design, planning, policy development, and advocacy. Their work includes a broad range of work including design and planning parks and natural systems, people-centered mobility networks, affordable housing communities, environmental health and climate resiliency solutions, healthy community strategies, and community development. Learn more at www.cityfabrick.org.
About TCA Architects
Founded in 1993, TCA Architects are nationally recognized leaders in high-density, mixed-use, multifamily housing, and signature hospitality environments. The firm's collaborative approach and industry leading technological expertise have resulted in award-winning, sustainable projects that respect our communities and the environment.  With studios located in Oakland, Los Angeles and Irvine, California, TCA is one of the nation's fastest growing architectural firms. For more information on TCA, its design talent and current projects, visit http://www.tca-arch.com/.