Second Sunshine Ordinance Community Meeting – Related California Bristol Specific Plan
5:30pm - 9:00pm
686 anton blvd
686 Anton Blvd, Costa Mesa, CA 92626
---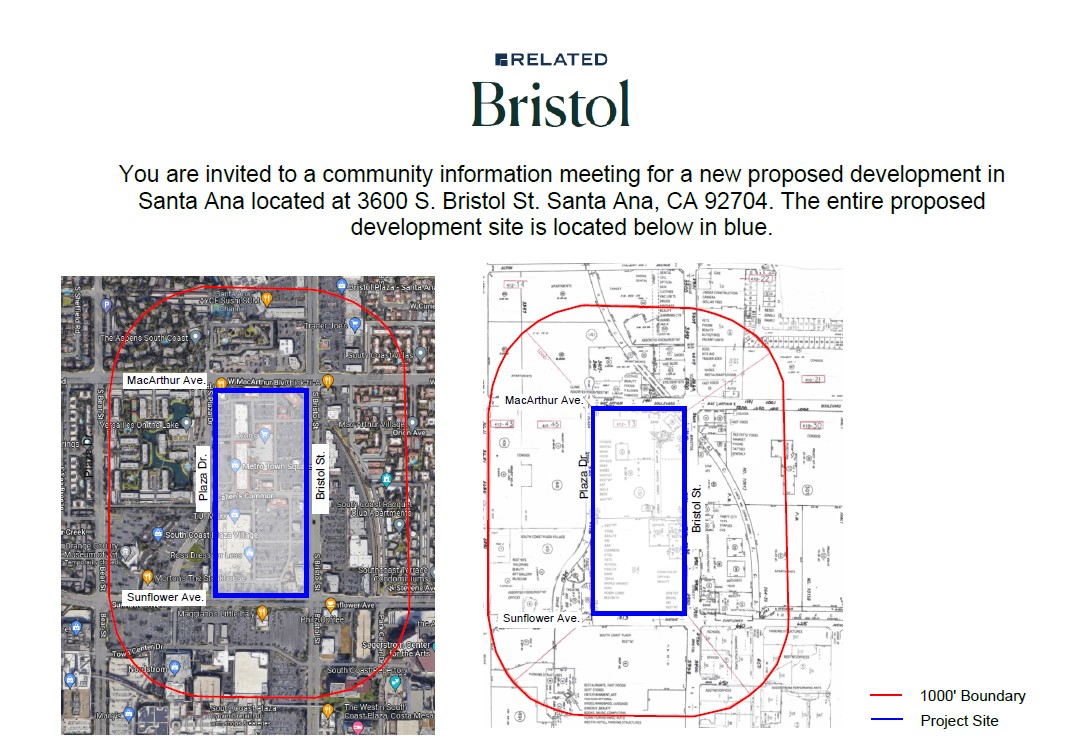 You are invited to a community information meeting for a new proposed development in Santa Ana located at 3600 S. Bristol St. Santa Ana, CA 92704. The entire proposed development site is located below in blue.
Related Bristol is a proposed mixed-use development program that includes up to 3,750 residential units. 250 hotel rooms, 200 units of senior continuum care, and 350,000 sf of retail and restaurant uses, in addition to extensive open space connected by a network of landscaped paseos and pedestrian-friendly pathways.
At the meeting, we will provide additional information about the development, answer your questions, and solicit your feedback on this new development. Pursuant to the City's Sunshine Ordinance, this meeting is the second required community meeting.
Date
Time
5:30 pm Doors open
6:00 pm Presentation followed by Q&A session
8:30 pm Meet & greet project team
9:00 pm Meeting ends
Location
Plaza Ballroom at The Westin South Coast Plaza
686 Anton Blvd, Costa Mesa, CA 92626
How to get there