Free Bicycle Maintenance and Safety Classes
1:00pm - 6:00pm
The Bicycle Tree
702 W 17th St C, Santa Ana, CA 92706
---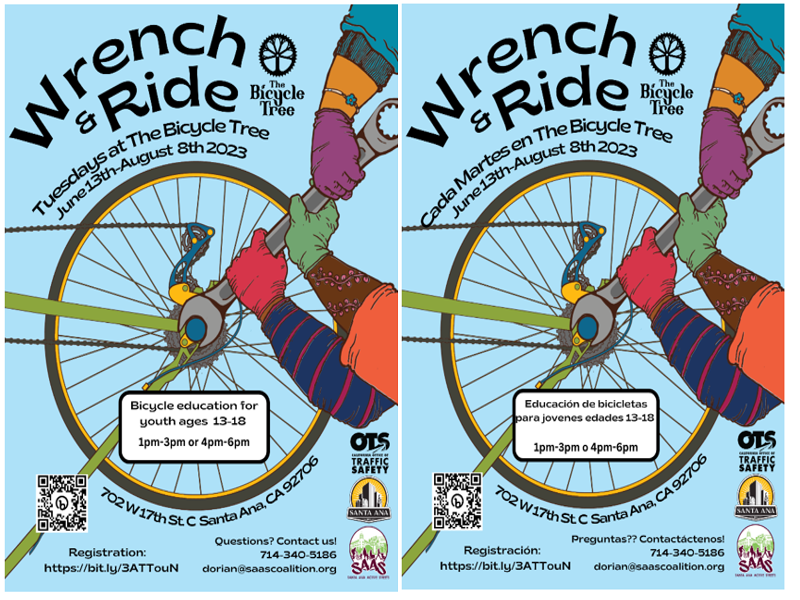 Join Santa Ana Active Streets (SAAS) and The Bicycle Tree for a Summer Wrench and Ride cohort! In this free eight-week program, participants ages 13 – 18 will learn about bicycle repair and maintenance, traffic safety, bike security, and more!  At the end of the program, participants get to take their bike home, along with a helmet, lock, and lights.
Classes will be held every Tuesday starting June 13 – August 8, 2023 at The Bicycle Tree located at 702 W 17th Street space C in the City of Santa Ana, CA.  Participants can choose one time frame between 1 p.m.- 3 p.m. or 4 p.m. – 6 p.m.  Please note that class will not meet on the Fourth of July.
Register today to secure your spot: https://bit.ly/3ATTouN or visit saascoalition.org/events.  For more information contact Dorian Romero at dorian@saascoalition.org or (714) 340-5186.
Santa Ana Active Streets is contracted by the City's Public Works Traffic Engineering Division to host education and interactive events around traffic safety.  Funding for this program is provided by a grant from the California Office of Traffic Safety, through the National Highway Traffic Safety Administration