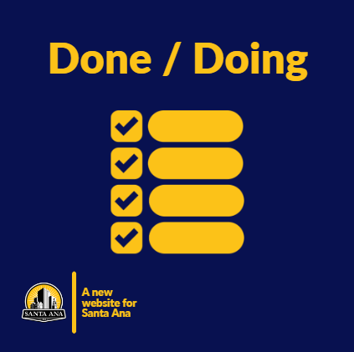 Welcome to our done/doing update for the City of Santa Ana website. This is a recap of what we've done September 13, 2023, to October 10, 2023 and what we're working on next.
Done
Human Resources added a Benefit Resources page with information for new employees.
Replaced the pictures on the Public Works news posts because the links were broken.
Updated the information on the City's homepage, added the new Cultura and Human Resources career opportunities.
Doing
Planning and Building is creating new pages for information about accessory dwelling units.
Planning and Building is updating the information for the pet clinics.