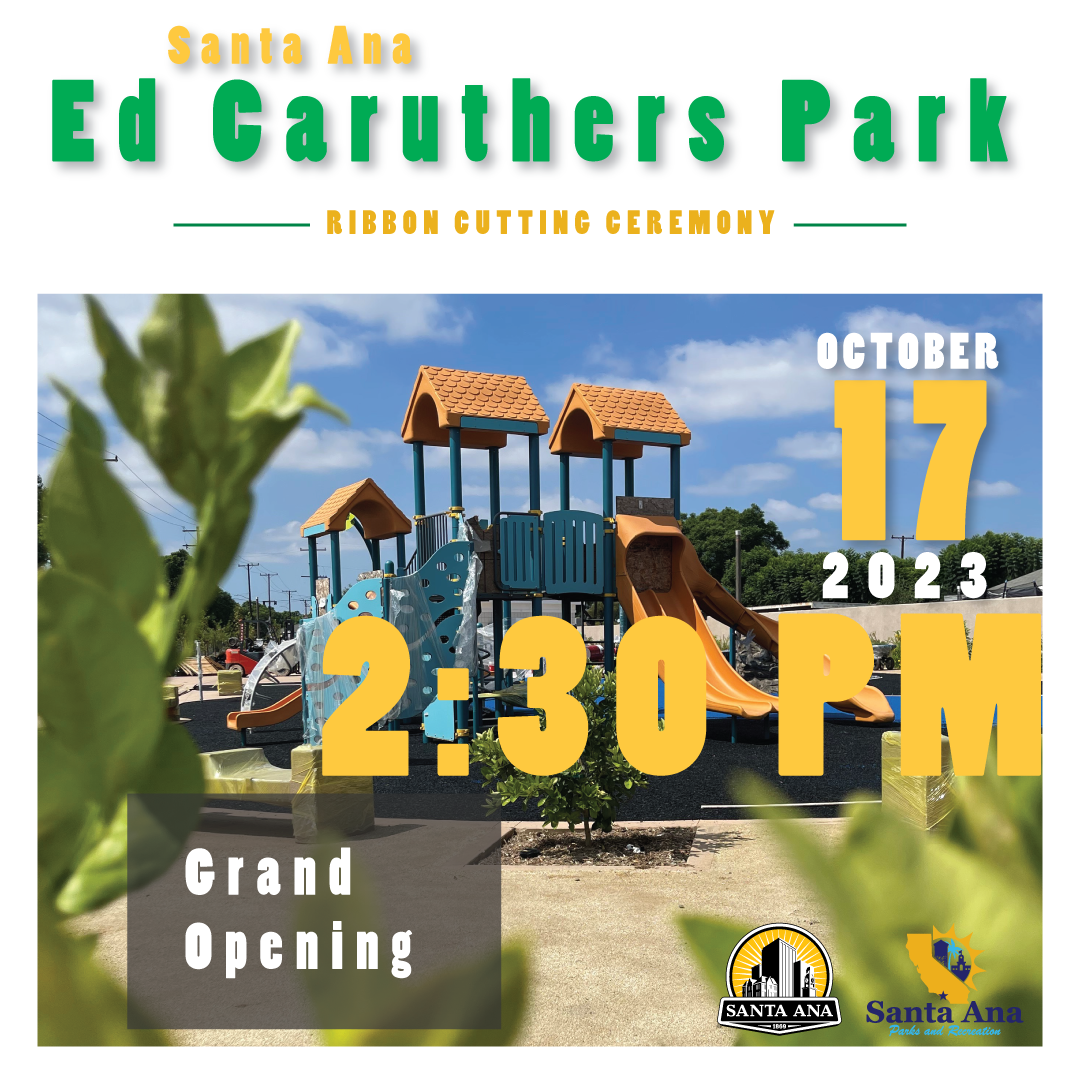 The City of Santa Ana is pleased to announce the grand opening of Ed Caruthers Park and invite the public on Tuesday, October 17, at 2:30 p.m. for the new park's official ribbon cutting ceremony located at the corner of Raitt and Myrtle streets.
Guests will see all of the exciting new amenities in person and enjoy a brief program with a performance by Ballet Folklorico Renacimiento. The community event hosted by the Santa Ana Parks, Recreation, and Community Services Agency will also have arts and crafts activities and light refreshments.
Ed Caruthers Park is a new, 1.18-acre neighborhood park and multi-benefit stormwater capture project, designed through collaborative efforts between the City's Public Works Agency, Park Services and Stormwater Divisions, and the local community. The park is named for Edward Julius Caruthers Jr., a former Santa Ana College Athlete and Olympian who was awarded the silver medal in the men's high jump event at the 1968 Summer Olympics held in Mexico City.
The project includes traditional park elements such as a playground area, exercise area, skate park, picnic areas, new restroom, and drought tolerant landscaping, but also features 3,300 square feet of Bioretention Basins and a subsurface infiltration system designed to capture stormwater runoff.
When it rains, stormwater runoff from the surrounding neighborhood and new park will flow into the Bioretention Basins and subsurface infiltration system and will percolate back down into the ground. The project is designed to capture approximately 5.3 acre-feet per year of stormwater from the 10-acre drainage area, helping to improve water quality in the Newport Bay watershed, enhance local water supplies, and reduce flooding.
The total cost of the park project was $4.4 million and was made possible by grant funding from the following:
State of California (Department of Water Resources) Proposition 1 Integrated Regional Water Management Grant: $1,670,000

State of California (California Natural Resources Agency) Statewide Park Development & Community Revitalization Grant: $1,626,905

Federal: U.S. Department of Housing and Urban Development (HUD); Community Development Block Grant (CDBG) 2016: $848,093 

Federal: HUD; CDBG 2018: $180,000 

City of Santa Ana Cannabis Public Benefit Fund: $114,023
In coming months, residents can look forward to a variety of new recreation programs activating Ed Caruthers Park. Additional information and resources will be made available to the public as details are confirmed.
The address of Ed Caruthers Park is 423 S. Raitt St., Santa Ana, CA 92703. The grand opening is a public event open to all. Street parking is available at no cost. Additional information regarding the Ed Caruthers Park grand opening and ribbon cutting ceremony can be found at www.santa-ana.org/event/ed-caruthers-park-ribbon-cutting/.