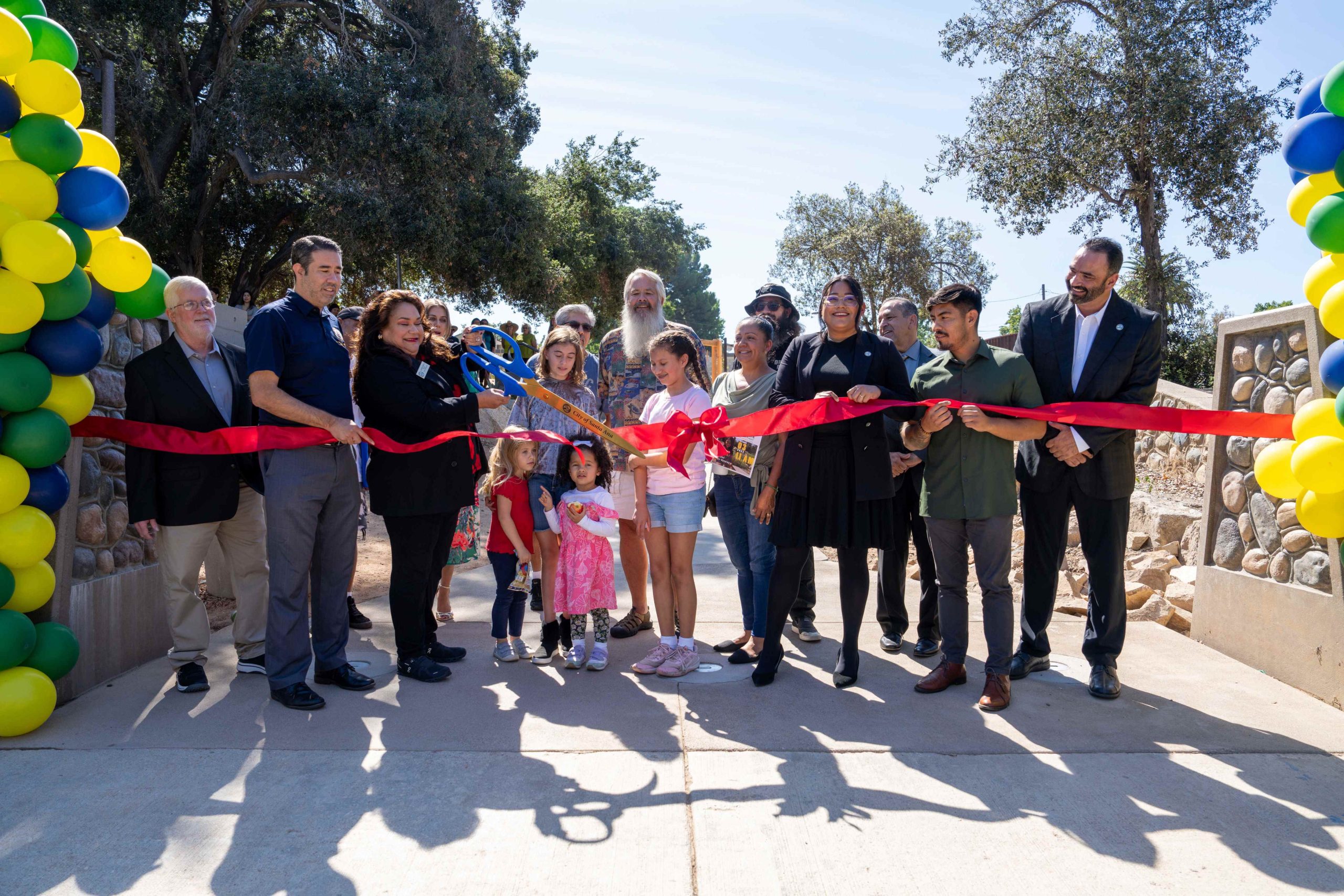 Santa Ana's Parks, Recreation, and Community Services Agency welcomed the community in the grand reopening of Santiago Park on Tuesday, Oct. 3. Guests got to see all of the exciting new updates in person and receive a preview of the new programs and services  that are starting as a result of the $3.5 million renovation project.
Mayor Valerie Amezcua, Mayor Pro Tem Jessie Lopez and Councilmember Johnathan Ryan Hernandez helped celebrate the ribbon cutting. A representative of Congressman Lou Correa was in attendance and presented a certificate of recognition. The California State Coastal Conservancy provided a $1 million grant to support the project and was represented by Deputy Regional Manager Greg Gauthier.
See more photos of the ribbon cutting event here.
The Santiago Park Gas House Area Development has brought new additions to the once underdeveloped area on the west end of the park, on the south side of Santiago Creek. In recent years, Santiago Park has been drastically impacted by encampments, drought and invasive pests. The City began to prioritize renovations and grant opportunities for this park as it is one of five citywide parks that serve all Santa Ana residents, and the only wilderness park located in the city.
The project removed a portion of Valencia Street and turned a formerly empty dirt area into one that can now become alive with park users. New accessible concrete walkways around the park provide a walking loop and also connect a series of new amenities: multi-level playground, group picnic areas, amphitheater, site furnishings, site lighting, new riparian landscaping, renovated restrooms, and restoration of the historic gas house. The total project cost was $3.5 million, which was funded by a California State Coastal Conservancy grant, Acquisition & Development Funds, and Cell Tower Revenues.
The California State Coastal Conservancy is a State agency established in 1976 to protect and improve natural lands and waterways with an emphasis on helping people access and enjoy the outdoors. One of their many grant opportunities focuses on funding projects along the Santa Ana River and its tributaries. The City successfully applied and received the full grant request for $1 million to help support this project in Santiago Park.
In addition to these improvements, the existing nature center will be completely renovated into the Santiago Creek ECO Center. The new ECO Center will be operated by the Santa Ana Zoo and will aim to Empower Communities Outside through citizen science programs. Visitors will become scientists by discovering and connecting directly with nature. At the ECO Center, visitors can look forward to guided nature walks, bird watching, nature story programs, mini-hikes, and park pop-up programs. During the grand reopening on Oct. 3, the ECO Center offered:
Open building tour with concept art of upcoming interior renovations
Voting on most popular building hours
Nature-related crafts and activities
The Parks, Recreation and Community Services Agency's Health & Wellness section also introduced the successful Golden City Hour program to the Park Santiago neighborhood at the grand reopening event. Residents can look forward to regular guided walks on the second and fourth Wednesdays of the month from 3 to 5 p.m. starting on Nov. 8. City staff will guide participants throughout Santiago Park to learn about the local watershed, observe nature, meet neighbors, and share stories.
The address of Santiago Park is 2535 N. Main St., Santa Ana, CA 92706. On-site parking is available at no cost in the centralized parking lot on Memory Lane and Lawson Way. Go here for additional information regarding the Santiago Park project.
# # #
About Santa Ana
Santa Ana is downtown for the world famous Orange County, California. It is the County Seat and is home to a vibrant evening scene and arts community. Over 1,400 City employees work hard every day to deliver efficient public services in partnership with our community to ensure public safety, a prosperous economic environment, opportunities for our youth, and a high quality of life for residents. Learn more at www.santa-ana.org.