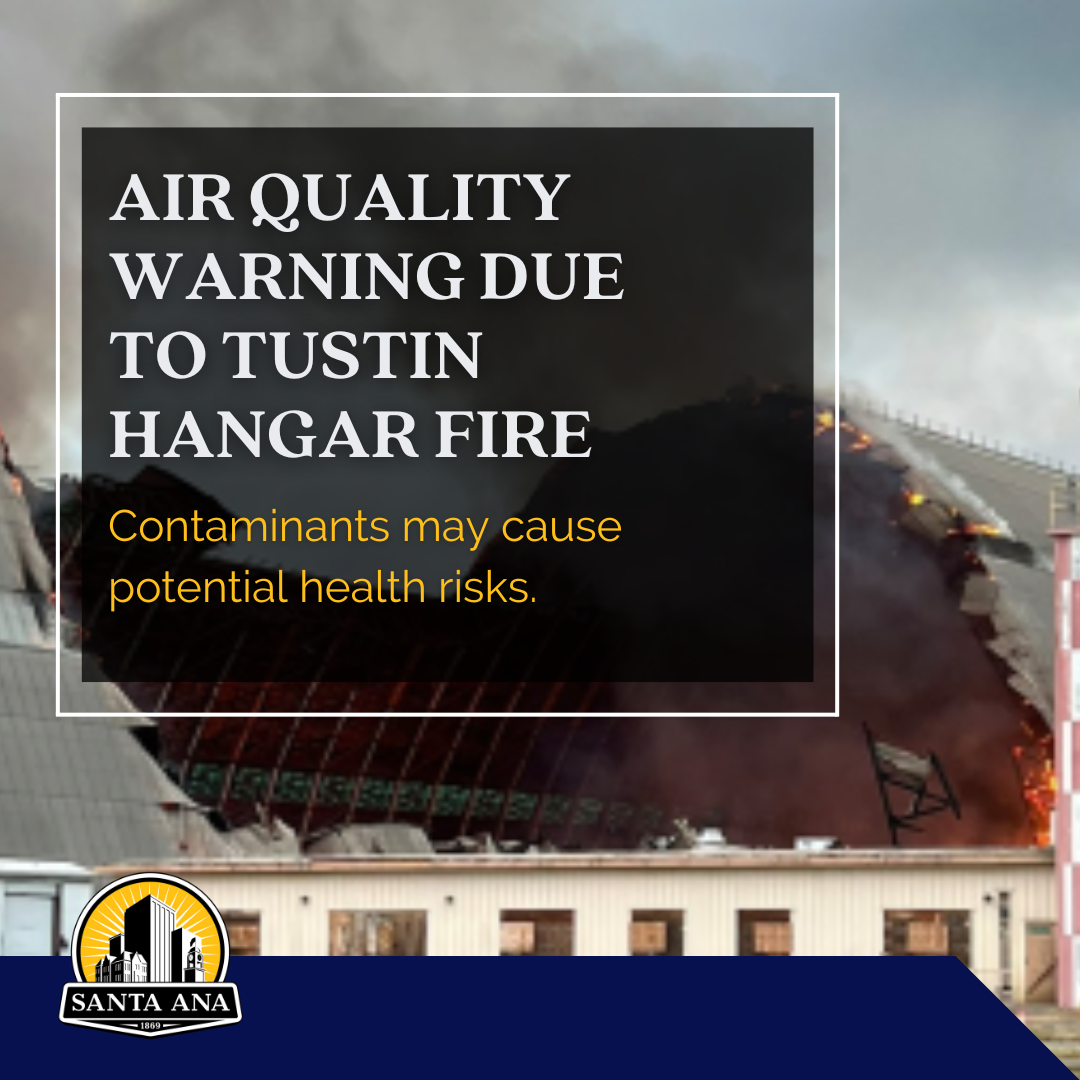 County of Orange officials announced the smoke and contaminants from the hangar fire at Marine Corps Air Station Tustin may pose a health risk to some Orange County (OC) residents in the immediate and adjacent vicinity. The City of Santa Ana is in contact with County health and emergency officials and other agencies and will continue to monitor the situation and provide updates.
If you are being impacted by windblown smoke, dust or ash, the OC Health Care Agency suggests these precautions:
Try to limit your exposure by remaining indoors, with windows and doors closed or seek alternative shelter to reduce exposure to smoke and ash.

Avoid touching ash as ash from burned structures is generally more hazardous than forest ash.

Limit or avoid activities that will displace ash into the air.

Avoid direct contact with ash. If you get ash on your skin, in your eyes, or in your mouth, wash it off as soon as you can.

People with heart or lung disease, including asthma, older adults, children, and pregnant women should use special caution around ash.

Children and pets: Children should not be nearby while you clean up ash. Do not allow children to play in ash. Clean ash off all children's toys before use. Clean ash off pets and other animals.

Avoid vigorous activity.

Run your air conditioner or air purifier. If possible do NOT use swamp coolers or whole house fans that bring in outside air.

If you are going to be outside, a properly fitted N95 or P100 respirator may provide some protection.

Keep your airways (nose and mouth) moist by drinking extra amounts of water.

People with respiratory or heart disease, the elderly, and children should remain indoors.

Seek medical attention if you have symptoms such as chest pain, chest tightness, shortness of breath, or severe fatigue.

Minimize exposure to other sources of indoor air pollution- avoid using anything that burns, such as wood fireplaces, gas logs, gas stoves – including candles or incense.