DraftGeneral Plan Update to be Discussed at Planning Commission Study Session
5:30pm - 7:30pm
Santa Ana City Hall
20 Civic Center Plaza, Santa Ana, CA 92701
---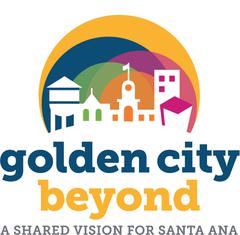 Learn more about Santa Ana's vision for the future and provide comments on the Draft General Plan Update.
On Monday, August 24, 2020, the Santa Ana Planning Commission will be holding a Study Session to discuss some of the major policy changes proposed in the Draft General Plan.  Made available for public review on August, 3, 2020, Santa Ana's "Golden City Beyond: A Shared Vision" General Plan will guide the City's development and conservation for the next 25 years through 2045. The update will provide long-term policy direction and communicate the vision, values, and goals for Santa Ana's physical development, fiscal and environmental sustainability, and overall quality of life.   Building on the Draft Policy Framework (December 2018) and outreach conducted in 2019 and 2020, the August 2020 Public Review Draft General Plan documents now include mapping, tables, and updated policies.
The Draft General Plan Land Use Element has identified five key areas for potential urban and transit-oriented development opportunities to encourage pedestrian, bicycle, and transit travel to improve air quality. These areas propose a mixture of uses including new housing, community-serving commercial, and employment areas accessible to all residents.  In addition, the Draft General Plan includes policies and potential actions to address the topic of environmental justice in our disadvantaged communities.
Planning Commission Meeting Details
Date: Monday, August 24, 2020 at 5:30 p.m.
To participate in meeting: By phone, join between 5 and 5:30 p.m. the day of the meeting by telephone at (669) 900-9128 and enter Meeting ID: 315 965 149#.  For more information, and to see the Planning Commission Agenda, please visit www.santa-ana.org/cc/city-meetings.
The Draft General Plan Elements and associated Program EIR are found at www.santa-ana.org/general-plan. Learn more about the Draft General Plan Update, upcoming public meetings, and how to participate on our website. All are welcome to provide comments by email at newgeneralplan@santa-ana.org. For more information you may also call (714) 667-2781.