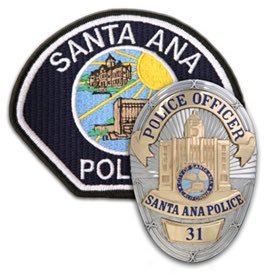 Santa Ana Police Chief David Valentin has issued a video message today to address serious misinformation that has recently been reported about police activities and to assure the public that all Santa Ana Police Department officers and staff are held to the highest standard. The misinformation was reported on a blog about the Major Enforcement Team (MET). He also discussed how the department investigates allegations of wrongdoing and its commitment to holding employees to the highest standards.
The misinformation stems, in part, from unfounded claims of misconduct by off-duty MET officers at a Santa Ana restaurant in August 2020 and baseless allegations that Chief Valentin interfered with the investigation.
"As police chief, I want to reassure the public that these allegations were taken seriously, and the incident was investigated thoroughly and objectively," Chief Valentin said. "We investigate any allegations of wrongdoing and hold officers accountable to our department policies and the law." Chief Valentin also addresses unfounded claims of a police officer gang within MET.
"To further proactively address this concern and to provide transparency for our community, I have directed an independent, complete, thorough and objective assessment of MET's operations to be completed by the Office of Independent Review," said Chief Valentin.
In the video, Chief Valentin also addresses the internal affairs investigation of a recent incident in which a police officer was filmed playing loud music to disrupt a video recording late at night in a Santa Ana neighborhood.
Members of the public who believe they have witnessed police misconduct are encouraged to file a complaint at www.santa-ana.org/police-file-a-complaint. For more information, contact the Internal Affairs Division at (714) 245-8011.