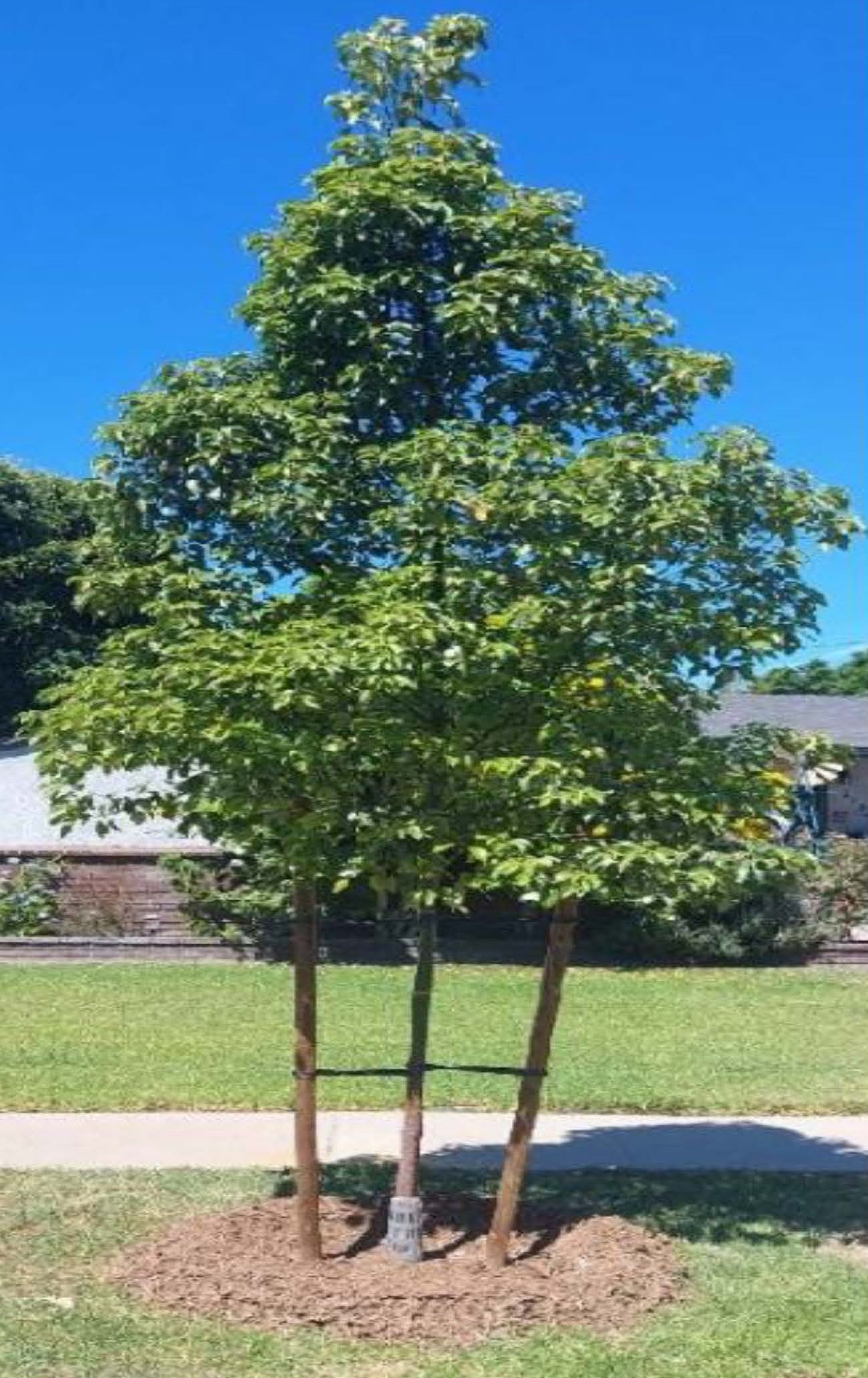 Are you keeping an eye on your parkway tree and trees on your property?  Summer Heat is here, and a little tender care goes a long way to keep trees happy in the summer time.  Trees are living organisms that require proper care and water in order to grow and thrive, especially in an urban environment.  Trees are assets to a community when properly planted and maintained.
Trees help to improve the visual appeal of a neighborhood, increase property values, reduce home cooling costs, remove air pollutants and provide wildlife habitat, among many other benefits.  Safeguarding our water resources during the summer heat and protecting our urban forest are equally essential to the sustainability of our community and both must go hand in hand.  As we continue to save water during the summer, we must also keep our trees healthy.
Below are some helpful tips on how to properly water trees during the summer heat and techniques on how to improve water retention. Adding mulch to the base of a tree will reduce water loss from evaporation, reduce the growth of unwanted weeds and replenish nutrients as it biodegrades.
Tips for Watering Trees & Improve Water Retention
Water in the early morning or evening.
Avoid wetting foliage when watering.
Don't over water.
Avoid watering trees right at the trunk.
Water trees and shrubs slowly.
Mulching ring around the base of tree: 6-inch layer and 4 feet diameter.
For additional tips from the Public Works Agency on how to water your trees in the summer heat visit https://www.santa-ana.org/documents/watering-your-trees-in-the-summer-heat/. More information on the Santa Ana Tree Program is available at https://www.santa-ana.org/street-tree-services/ or call (714) 647-3380.
Additional information is available from our partners and other agencies:
Useful Links:
West Coast Arborists, Inc.
LEARN MORE
Urban Forestry Today
urbanforestrytoday.org
TREE Fund
treefund.org
CA Urban Forest Council
caufc.org