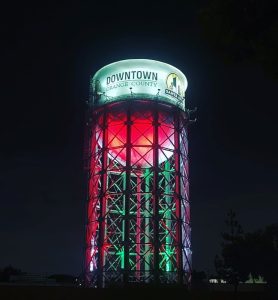 The Santa Ana Water Tower's lighting system is designed to enhance special events and be a source of civic unity and pride. We light the Water Tower to promote the City of Santa Ana, our civic institutions, state and federal holidays, public events of community significance, and times of celebration.
From time to time, we may consider community suggestions for special lighting to recognize a specific cause or to commemorate or enhance a specific event consistent with the purposes expressed here. Ultimately, we exercise discretion to light the water tower.
How to submit a suggestion to light the Water Tower
You can submit your suggestions using the form below at least 14 days prior to the suggested lighting start date.
Criteria for the City to consider suggestions
Suggestions are processed in the order in which they are received and are considered on a case-by-case basis using the following criteria:
Supports an event or date of statewide, national or international significance (i.e., Fourth of July.)
Supports a local festival or event that positively impacts local community spirit (i.e., Pride.)
Supports a local, national, or international awareness issue (i.e., Heart Healthy Month.)
Acknowledges and welcomes visiting dignitaries (such as a visiting Head of State or Ambassadors from various countries) hosted by our city.
Supports local, regional or national athletic teams during playoffs or when winning amajor competitions (i.e., World Cup, World Series, Olympics)
Commemorates or memorializes an individual who has had a significant impact on the community.
Priority in choosing colors/patterns for the lights will be given to promotion of events that celebrate the City, its civic institutions, City-recognized holidays, public events and local festivals; lightings will be scheduled as dates are available.
If multiple suggestions are made for different colors on the same date(s), preference will be given to events that are locally organized, that affect the largest number of residents and were submitted earliest.
Water Tower lighting details
The Santa Ana Water Tower is located at 1524 Penn Way, Santa Ana, and is visible from the I-5 Freeway.
The top of the Water Tower is always illuminated in white; only the base of the tower is illuminated in different colors to accommodate special lighting.
We  recommend no more than three colors of special lighting at a time. Requests for additional colors may be considered, but we may not be able to accommodate such requests.
The water tower is gray, so lighting colors may be altered slightly. We will attempt to adjust the lighting to the most accurate representation of the suggested color.
The City Manager's Office reserves the right to deny or modify all suggestions. Ultimately, we exercise discretion to light the water tower.
Questions?
If you have questions about Water Tower lighting, please contact the City Manager's Office at (714) 647-5200 or email pio@santa-ana.org.
---
Submit your Water Tower lighting suggestion