The Orange County Sanitation District (OC San) is rehabilitating over a mile of regional sewer pipe in the cities of Irvine, Costa Mesa and Santa Ana. Work will begin this month on Sunflower Avenue between S. Plaza Drive and Main Street near the South Coast Plaza shopping area. An epoxy will be applied to the sewer pipes to repair and prevent future corrosion. This type of work is best done at night when the flow in the pipes is low.  The work is scheduled 7 p.m. to 7 a.m. through March 2023.
Project maps
Project map within Santa Ana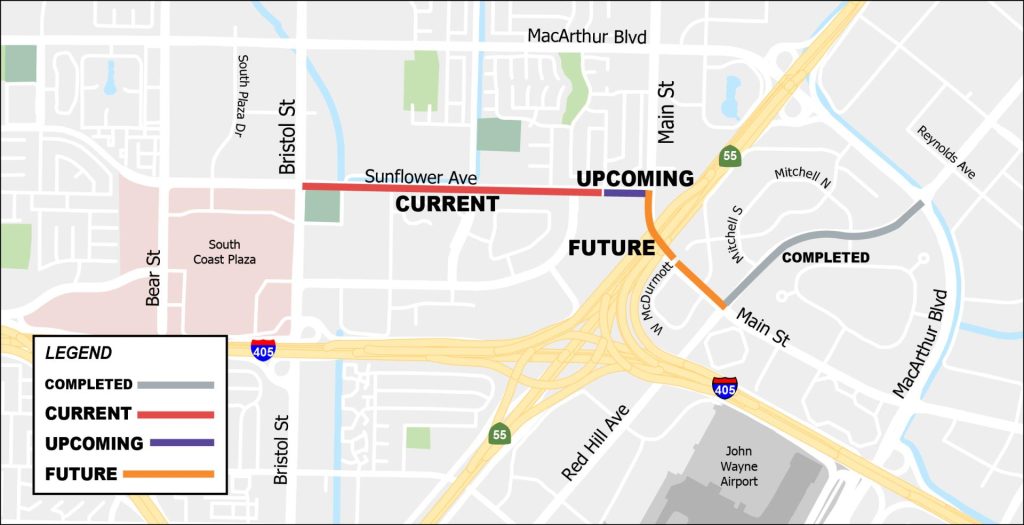 Overall project map (includes Santa Ana, Costa Mesa, and Irvine)
Construction activity to expect
Intermittent construction noise may be noticeable due to use of heavy equipment and machinery
Lane closures will remain in place for the duration of the work in this phase
Westbound Sunflower Avenue will be reduced to one lane between Flower and Avenue of the Arts
Avenue of the Arts will be reduced to one left turn lane at Sunflower
Southbound left turn lane on Main Street at Sunflower will be closed
Mitigation measures will be taken to minimize the traffic and noise impacts to our neighbors. This portion of the project is part of a larger project to repair sewer lines in Costa Mesa, Irvine and areas adjacent to Santa Ana. Part of the work in Irvine has been completed and the remainder of the projects work will be completed in the City of Irvine after this work is complete. The entire project is expected to be complete in early 2023.
How to stay informed
We understand the construction can be an inconvenience and appreciate your patience. For more information, visit www.ocsan.gov/sunflower, call (714) 378-2965, or email ConstructionHotline@ocsan.gov.