Stay tuned for 2023-24 event information.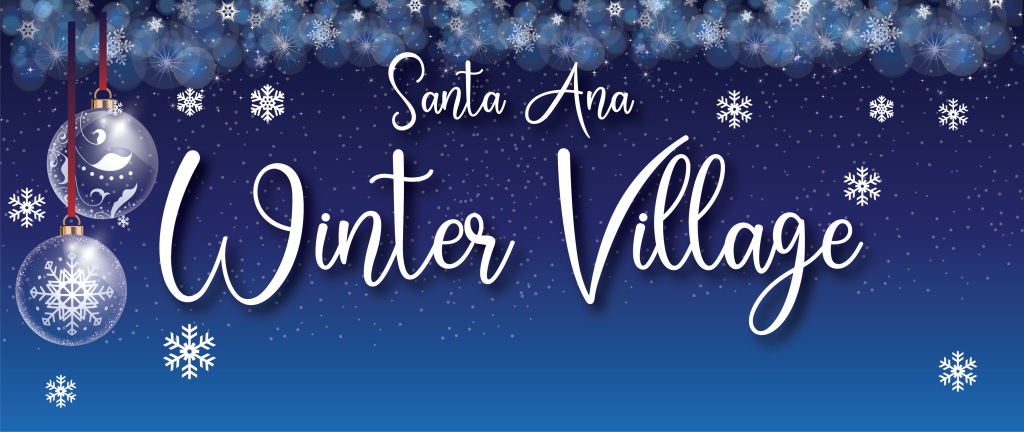 Thank you for joining us! Last year's event information below.
December 8, 2022 - January 8, 2023
Join us for this second annual holiday attraction, right in the heart of Santa Ana. Participants of all ages can enjoy an outdoor ice-skating rink, live entertainment, holiday shopping, local food trucks, and much more.  Family-friendly activities available throughout the month. Visit "Hours and Activities" below for details on special activities and other offerings.
Frequently Asked Questions (FAQ)?
Is this a free event?

General admission to the Santa Ana Winter Village is free of charge.

Are there costs involved with certain activities?

Yes. Costs are associated with special activities, such as ice-skating, food trucks, vendor merchandise and others.

Do I need to purchase ice-skating tickets before the day-of?

No, but it is recommended.  There are limited ice-skating tickets available per session.  Purchase tickets online ahead of time to guarantee your spot. Pricing:

Kids (3yrs -12yrs): $5 for Santa Ana residents and $10 for non-residents
Adults: $10 for Santa Ana residents and $15 for non-residents
Skate rental included in ticket purchase.
Skate sizes: toddler's 7 - men's 15

Ice-skating reservations and tickets are available for purchase. Reservations can be rescheduled within two hours of session start time.  If skating session is cancelled due to weather, ticket holders will receive an email notification and have the ability to reschedule.

Where can I park for the event?
What are the event hours?

This month-long event has varying hours to accommodate holiday schedules.  For details on hours and special activities throughout the month, make sure to visit the "Hours and Activities" tab.
More questions? Give us a call at (714) 571-4200.
Complete the waiver to participate in ice-skating.
To get access the Winter Village outdoor ice-skating activity, you'll need to complete a waiver.