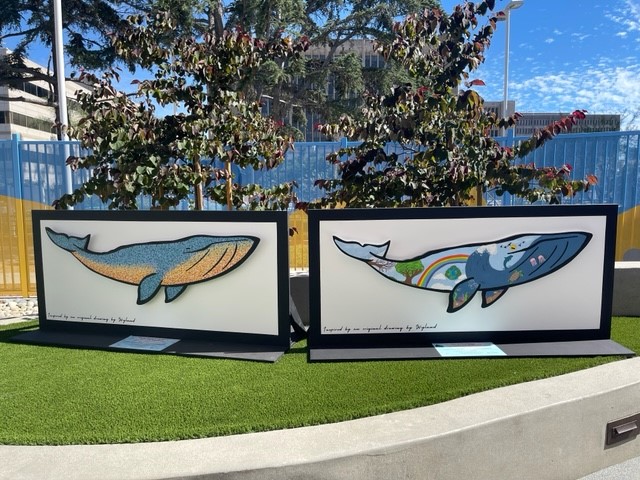 (Left to right) Roger Eyes R's "All the Water in the World" and local high school student art group piece "The Earth Undone" by Andrea Osorio and Mario Osorio are on display at the Santa Ana Public Library through September 5.
Public art project by local artists is on display at the Main Library through September 5
Four decades ago, marine life artist Robert Wyland began inspiring passersby in Laguna Beach with paintings of a life-size leviathans. Over time Wyland became world-renowned for his public art, much of it here in Orange County.
In 2022 he organized an annual action-based campaign to inspire county residents to learn about the potential impact that preventable, human-discarded pollution has on our public waterways and by extension … our neighborhoods and the ocean.
"The Streams of Hope Public Art and Community Cleanup Campaign," announced in February, had its inaugural year throughout April 2022, helping make Earth Day a month-long event. It promoted good water stewardship through art, education, and hands-on community activities.
"This new program is a natural complement to the ongoing outreach of Santa Ana's Public Works Agency," said Nabil Saba, the Agency's Executive Director. "The need to protect Orange County's waterways which feed into the ocean has never been more urgent, and we look forward to continuing our participation in the years ahead."
Its dual components were a public art initiative and a community cleanup campaign. The first brought together artists and arts groups to individually team up with Wyland on a series of baby gray whale wooden relief statues. The City of Santa Ana Public Works Department was an eager partner in helping launch the program and encouraging Santa Ana artists, students and residents to participate.
All the artists collaborated with Wyland in creating a series of statuettes based on Wyland's "Stella, the Baby Gray Whale." The local high school student art group piece is "The Earth Undone" by Andrea Osorio and Mario Osorio. They are both from Tustin Main, ACCESS 3 High School in Santa Ana. Multidisciplinary artist Roger Eyes R's "All the Water in the World" is the community artist piece representing Santa Ana. It is an acrylic on wooden board statuette.
These works remain available for viewing at the Santa Ana Public Library through September 5, 2022. A list of all the "Streams of Hope" artists can be viewed at https://www.mystreamsofhope.com/the-artists.
The other coalition of partners who made "Streams of Hope" a reality is the Wyland Foundation, the Municipal Water District of Orange County, the OC Conservation Corps and the County of Orange, and other local Orange County water providers of the Metropolitan Water District of Southern California. The Orange County Department of Education's Inside the Outdoors, and KCAL9/KCBS2 also gave their support.
"This program comes at a time when Public Works is expanding its maintenance responsibilities of Santa Ana's parks and other open spaces," Saba added. "We believe the timing gives this effort added importance and resonance for both our residents and our staff."
The Wyland Foundation, a 501(c)(3) non-profit organization, is dedicated to promoting, protecting, and preserving the world's ocean, waterways, and marine life. The foundation encourages environmental awareness through education programs, public arts projects, and community events. The foundation partners with organizations that share its vision in bringing people together for clean water and a healthy ocean. For more information on the project, visit www.mystreamsofhope.com.