If you are homeless and seeking immediate shelter, food, clothing or other types of assistance, please visit www.211oc.org or dial 2-1-1 to reach the 24-hour free information and referral helpline.
Year-round County emergency shelters
Yale Navigation Center
The Yale Navigation Center, with a capacity of 425 people, provides shelter, meals, sanitary facilities, and access to case management, employment and housing assistance, health care, mental health services, substance abuse treatment, and other supportive services and assistance to individuals experiencing homelessness.
Bridges at Kraemer Place
Bridges at Kraemer Place is an emergency shelter located in Anaheim, with a capacity of 200 people. This shelter is open to those 18 and older. The goal of Bridges at Kraemer Place is to transition clients to permanent housing as soon as possible.
Cold-weather shelter
The Orange County cold-weather shelter is a seasonal program that is normally operated during cold weather months. The program provides overnight shelter to individuals that are vulnerable and exposed to the outside weather elements and provides essential services that include nutritious meals, warm showers, a safe place to sleep, clothes, supportive services, and a friendly atmosphere.
The Santa Ana Navigation Center
The new Navigation Center is a 24-hour homeless navigation center in Santa Ana that serves homeless men, women, and families with minor-aged children. The building houses five dormitories, family rooms, full bathroom facilities and more. This shelter allows those with ties to Santa Ana who may be experiencing homelessness to focus on transitioning into permanent housing and employment opportunities.
---
Housing assistance
Each year, the City of Santa Ana receives funding from the U.S. Department of Housing and Urban Development (HUD) for homeless assistance under the Emergency Solutions Grant (ESG). The ESG program assists in the prevention of homelessness and to enable homeless individuals and families to move toward independent living. Funds are awarded to non-profit homeless service providers for shelter, essential services, rapid re-housing and street outreach.
The Santa Ana Housing Authority has housing voucher allocations to assist individuals experiencing homelessness if you are disabled, or a U.S. Veteran or a Foster Youth between the ages of 18 and 24 years of age. All persons who meet the eligibility criteria must be referred to the Santa Ana Housing Authority through the Coordinated Entry System (CES), to be connected to an access point please call 2-1-1.
Permanent supportive housing
The City of Santa Ana has developed 227 project-based housing voucher units and have another 207 units in the pipeline as shown below.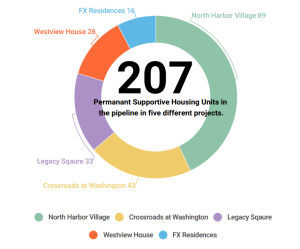 As a further demonstration of Santa Ana's commitment to the homeless crisis, we are proud of the 227 current permanent supportive housing units located in five different sites within the city limits. An additional 207 units are currently in the pipeline at five additional locations within the city limits.