If you are homeless and seeking immediate shelter, food, clothing or other types of assistance, please visit www.211oc.org or dial 2-1-1 to reach the 24-hour free information and referral helpline.
Shelters
Santa Ana is on the forefront in providing housing options for individuals experiencing homelessness. Learn more below.
Year-Round emergency shelters
Yale Transitional Center: 229 S Yale Street, Santa Ana, CA 92704
The Yale Transitional Center, with a capacity of 425 people, provides shelter, meals, sanitary facilities and access to case management, employment and housing assistance, health care, mental health services, substance abuse treatment, and other supportive services and assistance to individuals experiencing homelessness. For additional information about the Yale Transitional Center, visit their website.
Bridges at Kraemer Place: 1000 N Kraemer Place, Anaheim, CA 92806
Bridges at Kraemer Place is an emergency shelter located in Anaheim, with a capacity of 200 people. This shelter is open to those 18 and older. The goal of Bridges at Kraemer Place is to transition clients to provide more permanent housing plans as soon as possible. For additional information, visit their website.
Cold-Weather shelters
Cold-Weather shelters, which are open seasonally during cold weather, offers beds, a warm meal, warm shower, and a safe place to sleep. This shelter is located at 612 E Warner Avenue, Santa Ana, CA 92703.
The Link year-round shelter
The Link is a 24-hour emergency homeless shelter facility in Santa Ana that serves homeless men, women, families with minor-aged children, women, and adult couples. The building houses four dormitories, family rooms, full bathroom facilities and more, which will enable individuals from the City of Santa Ana experiencing homelessness to focus on transitioning into permanent housing and opportunities for employment. The Link is currently closed and the City of Santa Ana is operating an interim shelter in its place, until a permanent shelter is built. The permanent shelter will open in early 2022.
Housing assistance
Santa Ana typically awards about $500,000 annually in Emergency Solutions Grant funding for housing assistance. These funds are used for homeless prevention, rapid re-housing, shelter, data collection, and outreach. Funds for homeless prevention and rapid re-housing include short-term rental lease payments, utility assistance, and security assistance.
Housing vouchers
The Santa Ana Housing Authority provides housing vouchers to very low-income families through the Housing Choice Voucher Program. Housing vouchers are set aside specifically for individuals experiencing homelessness.
Permanent supportive housing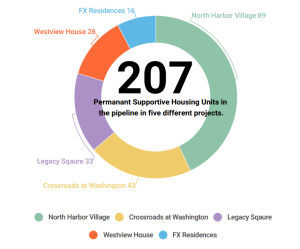 As a further demonstration of Santa Ana's commitment to the homeless crisis, we are proud of the 227 current permanent supportive housing units located in five different sites within the city limits. An additional 207 units are currently in the pipeline at five additional locations within the city limits.