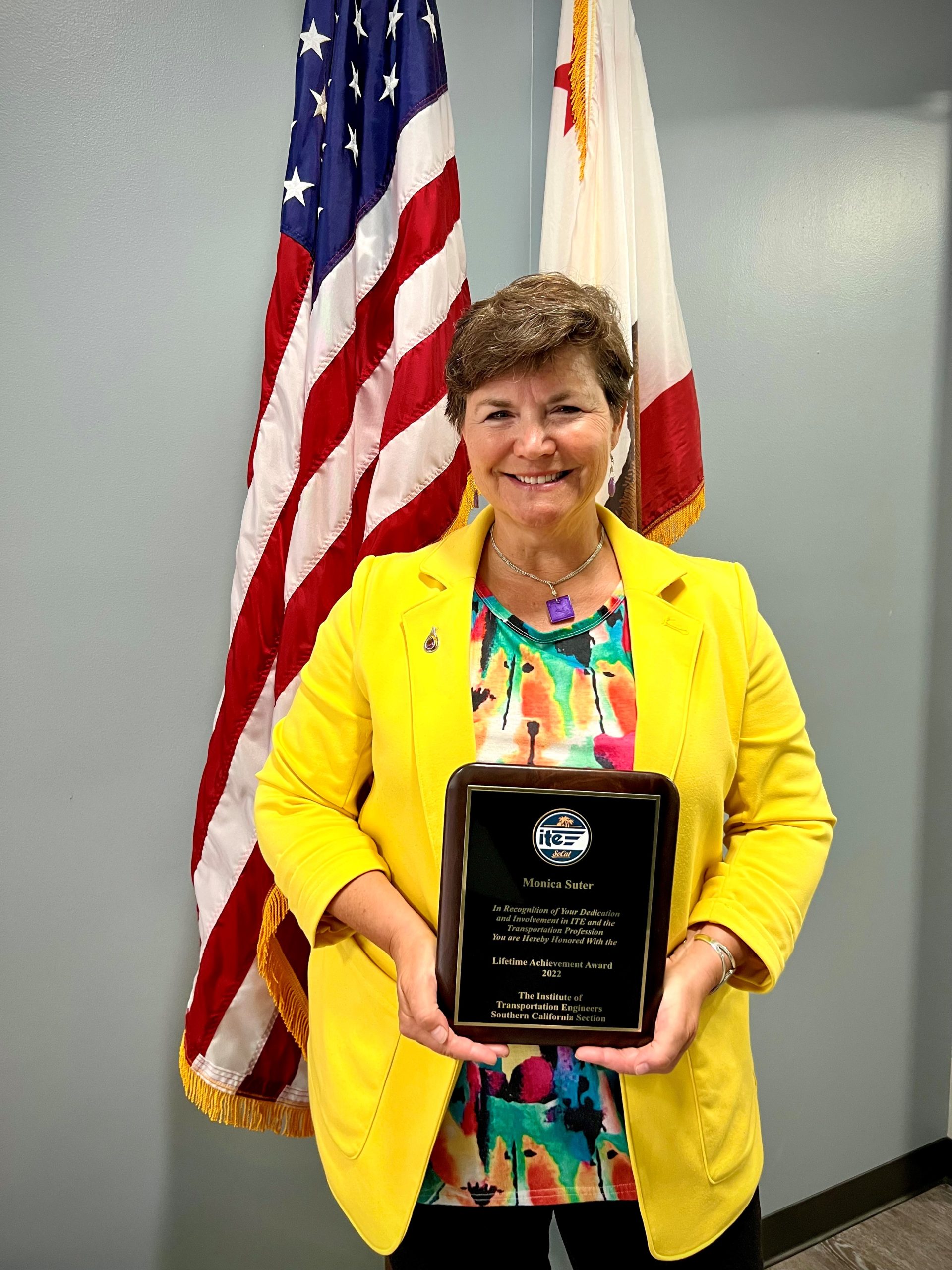 On Wednesday, November 16, 2022, the Southern California Section of the Institute of Transportation Engineers (ITE) presented the 2022 Lifetime Achievement Award to Santa Ana's Public Works Engineer Monica M. Suter for her dedication, contributions, and vast involvement in ITE and the Transportation Profession.
With nearly 35 years serving the public and private sectors as a licensed Civil and Traffic Engineer and Professional Traffic Operations Engineer (PTOE), Monica has led freeway, city street, pedestrian safety, railroad, roundabout, protected bike-lane, parks, civil and traffic engineering projects.  Monica first joined ITE at Michigan State University where she earned her Civil Engineering degree.  From 1999-2000, Monica was Orange County Traffic Engineers Council (OCTEC) President.  In 2001, she received the Section's "Young Transportation Engineer Award.  Monica was ITE SoCal's Section President (2002-2003), which under her leadership; the Section received both the District and International's Best Section Awards.  From 2005-2012, Monica served on the 13-state region's Western District Board while also managing ITE's Public Agency Council as Vice Chair (2006-2009), publishing/presenting several papers, completing City Projects, and co-creating/instructing the Manual on Uniform Traffic Control Devices (MUTCD) California standards course.
As ITE Western District's President, she promoted the profession with her "Getting to 'Yes' With the Public and Elected Officials" presentation.  As ITE International Director (2012-2014) and Advocacy Committee Inaugural Chair (2014-2016), she shared several "Advocacy" presentations and worked collaboratively with the US Congress, the American Society of Civil Engineers, and ITE which helped lead to the 2014 FAST ACT Transportation Funding—signed by the US President in 2015.
As a National Committee on Uniform Traffic Control Devices (NCUTCD) American Public Works Association (APWA) Delegate/voting member, Monica Co-chairs the Joint Bicycle/Traffic Signal Task Force that recommends Active Transportation standards for the Country while successfully reaching consensus on nearly every task to date.  She regularly works with Elected Officials related to transportation funding, City-employee advocacy and has served on state-standards committees, provided transportation safety testimony to state legislators.
Monica currently leads the Active Transportation Project (ATP) Reporting program and key ATP project implementations requiring advocacy with the public and elected officials.  Congratulations Monica!