General information
The Bristol Street Corridor Specific Plan, adopted in 1991, provides the framework for future redevelopment of a 3.9-mile section of the Bristol Street Corridor from Warner Avenue to Memory Lane.  The plan provides a comprehensive land use program and urban design guide for the area along with goals and policies to guide the future public and private actions relating to the area's redevelopment.  The current effort is to amend the plan to incorporate changed conditions along the corridor due to the ongoing Bristol Improvement and Widening Project.
Improving mobility
The Bristol Street Corridor, which is designated as a Major Arterial Highway in the Orange County Master Plan of Arterial Highways (MPAH), serves as a vital north-south transportation link which has regional as well as local significance. The roadway implement complete street features by providing safe mobility for all users, including pedestrians, bicyclists, transit riders, and motorists; and serving as the designated truck route through the central section of Santa Ana.
Serving the community
and use patterns along the Corridor reflect the importance of the area within the City's overall urban fabric. The City of Santa Ana General Plan Circulation Element shows the corridor having four major commercial nodes distributed along the length of the corridor; South Bristol Center, North Bristol Center, College Center, and an extension of the Civic Center District. These commercial areas are intended as mixed use development areas whose primary function is to provide retail services in support of surrounding neighborhoods but which also provide recreational, cultural and educational facilities and activities, religious buildings, and employment. Residential neighborhoods fill the areas that separate the four District Centers.
Documents for public review and comments
An amendment to the Bristol Street Corridor Specific Plan and an addendum to the Final Environmental Impact Report (FEIR) have been prepared to amend the land use plan to better accommodate remnant parcels of land acquired by the City as a result of the improvements along Bristol Street.  More appropriate zoning designations have been recommended for parcels within the corridor based on the new street right-of-way configuration and compatibility with adjacent existing land uses.
The Addendum to the Final Environmental Impact Report and the Amendment to the Bristol Corridor Specific Plan are available for a 30-day public review period beginning on November 10, 2014.  All interested parties are invited to submit written comments on these documents.  Due to the time limits mandated by state law, comments on these documents must be received by the City no later than December 10, 2014 at 5:00 pm.
Copies of the FEIR Addendum and Bristol Corridor Specific Plan Amendment are available during the 30-day public review period at the following locations:
City Clerk's Office
20 Civic Center Plaza
City Hall, 8th Floor
Santa Ana, CA 92701
Monday – Thursday (8am – 5pm)
Every Other Friday (8am – 4pm)
Public Works Counter
20 Civic Center Plaza
Ross Annex Bldg, 1st Floor
Santa Ana, CA 92701
Monday – Thursday (8am – 5pm)
Every Other Friday (8am – 4pm)
Main Public Library
26 Civic Center Plaza
Reference Desk
Santa Ana, CA 92701
Monday – Thursday (10am – 9pm)
Friday & Saturday (10am – 6pm)
Comments and responses should be submitted in writing to:
Kenny Nguyen
City of Santa Ana
Public Works Agency
20 Civic Center Plaza M-36
Santa Ana, CA 92701
Or by email to:
Past meetings
Planning Commission Meeting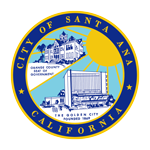 Monday, February 23, 2015
5:30 pm
City Council Chambers
City Council Meeting
Tuesday, March 17, 2015
5:45 pm
City Council Chambers